Hard Hitting
Top three stat leaders in varsity football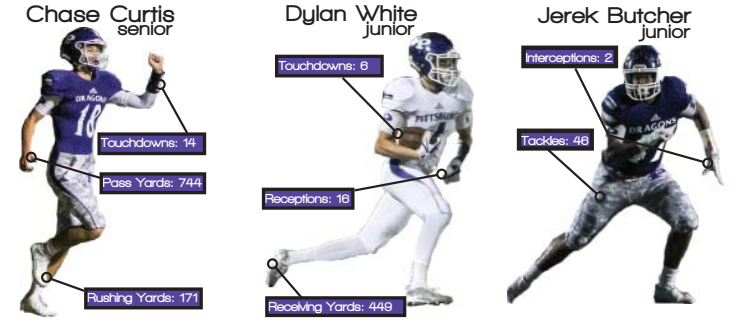 Pittsburg High School's football team has used its early season success to propel itself to a number five ranking in class 5A, according to maxpreps.com.
The Dragons (4-1) have utilized the quarterback-receiver connection between senior Chase Curtis and junior Dylan White, where five out of seven touchdowns Curtis has thrown so far this season have gone to White.
White feels that the friendship he and Curtis share helps with their connection on the field.
"Chase and I are close friends off the field and I think it helps with our play on the field," White said.
Senior quarterback Chase Curtis also gives credit to White and the rest of the receiving core for the passing game's success.
"Dylan White and my other receivers have done a really good job," Curtis said.
White also expects for the duo to keep up their effort.
"I expect us to keep playing hard each game, and working hard in practice," White said. "And if we do that, I think the rest will fall into place."
Curtis agrees with White's outlook and believes that the team will hold together.
"We have each other's back and no matter what happens this team won't break," Curtis said.
The defense has allowed only 17.6 points per game to support the offense.
Junior linebacker Jerek Butcher has proven to be effective against the run and the pass, compiling 46 total tackles and two interceptions on the season.
Curtis had nothing but praise for Butcher's ability as a linebacker.
"Last year Jerek was one of our best lineman, but we were a bit thin at linebacker and he stepped up and is now one of the best linebackers in the state," Curtis said.