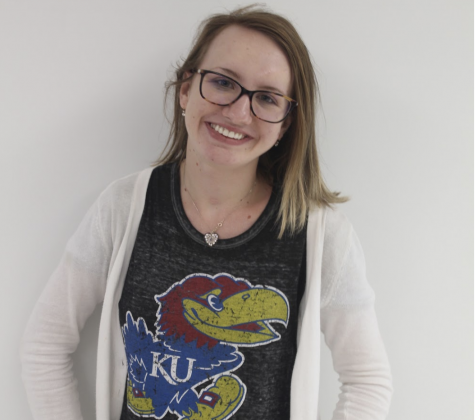 Story by Lane Phifer, Reporter
May 20, 2019
After winning Kansas Journalist of the Year on Feb. 24, senior Nicole Konopelko, along with 50 other 2019 State Journalists winners, was given the opportunity to submit her portfolio to the National Journalist of the Year competition. However, Konopelko was selected as runner-up. The competition was held by the Journalism Education Association (JEA) in Anaheim, California from April 25-27. "When I first looked at her work, I saw a well-rounded portfolio with tons of great work and a student who is interested in local reporting," said Eric Thomas, executive director of KSPA. "A lot of Nicole-Marie's work was focused on PHS. I think that that is very impressive and exactly what the judges were looking for in student journalism." While attending the NSPA Convention, Konopelko was given the $850 Sister Rita Jeanne scholarship that was started by Sister Rita Jeanne, who was JEA's longtime treasurer. "I'm extremely honored to be runner-up. [That's] further than anyone who's gone to Pitt and further than I ever imagined myself going," Konopelko said. "It was just amazing to be able to have my story presented on the national stage in front of all these amazing people who I admire with all of my heart." Konopelko says when she was 12 years old, she developed a love for storytelling. She has devoted her time into journalism as a way to give back to the community who nurtured her and her mom after the loss of her father. Over the years, Konopelko has seen herself grown more as a writer and has devoted her life into journalism. "By my third story, I knew that this was what I was born to do. I believe that God put me on this earth to be a journalist. Writing is so instinctual," Konopelko said. "I love talking to people. I love understanding people. I love empathizing with people. I had absolutely no doubt and I still have no doubt three years after I started outlining my first story." In addition to her most recent national runner-up award, Konopelko has received multiple awards, including top student journalist statewide, along with third place at the New England Senate Investigative Reporting (NECAR) workshop. Being nominated as runner-up at Nationals adds more to that list. "I think there's nothing more rewarding than seeing a kid getting things that they've earned. Nicole is really committed to being a storyteller and being a journalist," Student Publications advisor Emily Smith said. "She does not shy away from a difficult story, or hard work — having to learn how to do something, but most of all she doesn't shy away from criticism. Not a lot of students have that quality." In addition to her journalism accolades, Konopelko also earned a full scholarship to the University of Kansas. "I am super excited to go to KU. I knew after my first visit that it was a great fit for me," Konopelko said. "The journalism school there is widely regarded as one of the best in the nation and I'm so certain that the advisers there will help me pave the way to postsecondary journalistic success."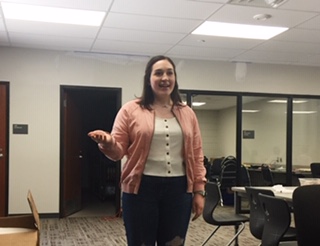 May 16, 2019
The school made history on May 4 as junior Scout Peery became the first PHS student to win the Kansas State High Schools Activities Association (KASHAA) State Forensics Tournament in foreign extemporaneous speaking. This is Scout's second year competing in foreign extemporaneous speaking, but third year competing in forensics and debate. "Scout has really grown as a speaker and an extemper," head forensics and debate coach Julie Laflen said. "Last year she was really starting to develop skills. This year, she grew a lot." To compete in either of the two extemporaneous speaking events – foreign or domestic – the speaker must prepare a seven-minute memorized speech in 30 minutes. The speech must answer one of the three questions drawn out of an envelope at the beginning of that round. These questions change depending on which division you compete in. For foreign extemp, you will be given questions about news in other countries. "You have to know a lot about foreign countries and what's happening," Laflen said. "If someone asks you a question about some tiny little country, you should be able to know where the country is located and a little bit about what's going on. It's very challenging." On top of being the first PHS student to win in her category, Laflen said Peery also broke barriers in another way. "Being a foreign extemper is kind of difficult as a female because it's a very male-dominated activity," Laflen said. "She was the only female in finals. To see her up there being awarded a state championship was awesome." To win, Scout first had to go through the preliminaries, quarters, semis and eventually the finals. She competed against 30 schools from across Kansas and came out on top. "I thought I was going to do moderately okay," Scout said. "I did better than I thought I would."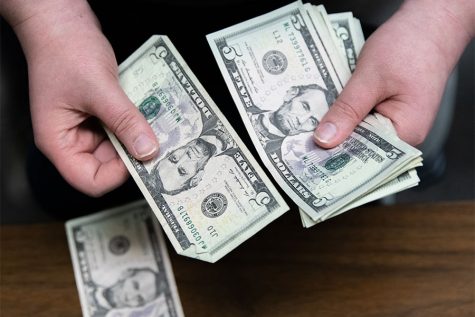 May 1, 2019
It's a day after school and senior Leyton Marler clocks in at The Mall Deli, grabs his apron and begins preparing his first order. After his shift, he cleans up and heads home, trying to get his homework done for the next school day. This is his life as a working student. According to 83 students surveyed by The Booster Redux, 65% reported maintaining employment and working between one to 30 hours a week, and 44% of students have jobs so they get a sense of independence. Marler, along with approximately 17 other students surveyed, work to support themselves. "I needed the money because I live with my sister," Marler said. "I don't exactly have parents that will provide for me, so I provide for myself." Marler had to decide between staying with his older sister or moving with his parents. "I wanted to stay and live in Pittsburg. My other options were the Kansas City area but I really like it here at PHS," Marler said. "It's definitely a little weird because she is only five years older than me so I still see her as a sister sometimes, but she has become more of an authority figure." According to Marler, his job has taught him life lessons he hasn't learned in school. "[My job has taught me] time management, to say the least, and even how to do taxes," Marler said. "I don't have time to fit a lot of things in my schedule and I learned how to deal with people in a work environment." Wayne McCabe, the general manager of Sonic Drive-In, has witnessed the growth kids experienced while working at Sonic. According to McCabe, 23 of Sonic's 50 employees are high school students. "They can start out as a 16-year-old and can be really shy, but by the time they head to college, they are really outgoing," McCabe said. "They learn how to communicate better with people and with their coworkers." Along with growth in personality, McCabe believes students have learned financial responsibility. "When they work anywhere, they start learning to budget their own money. They learn how to pay some bills and pay their own insurance or even their own cell phone bill," he said. "They aren't just relying on mom and dad anymore, they learn the value of their own money." According to Marler, working taught him how to think on his feet and how to handle new situations. "One time, I made a sandwich and put the wrong meat and cheese on it, so I got yelled at for doing it wrong," Marler said. "It was new. I had to learn a lot of the new stuff by myself." According to Superintendent Richard Proffitt, the school district is drafting a new plan to prepare students for life after high school "We were trying to raise achievements scores but that made every student just a data point on a graph. We were so focused in on making those that we got away from a lot of the other things that are important," Proffitt said. "Whether you want to call them soft skills, employment skills or character development skills, they all are all critical parts of a person… It doesn't matter if it is just communication, collaboration or showing up to work on time, or even being self reliant." Currently in the high school, multiple programs are working to educate students on employment skills. Special education teacher Jill Kangas started a project so her students could gain communication skills and work etiquette through their Life and Career Skills program (LCS). LCS is a program where special education students learn how to do basic everyday practices that they will need after high school, such as comparing prices at the grocery store or running errands. "I think it will teach them what employers expect," Kangas said. "They have to treat [employers] differently and talk to them differently so they learn that they can't say no and they have to do it the boss' way and not their own way." In addition to learning how to function in a work environment, consumer math teacher Hannah Davis is also teaching her students life skills through a student-ran business, NeedySpeedy Coffee. "I think it increases confidence and it gives them a willingness to put themselves out there. They feel better about interacting with adults and peers," Davis said. "Most jobs today you have to interact face-to-face or communicate and problem solve." One of Davis' students, junior Jocelyn Bolte, believes it gives her a sense of independence. "Mrs. Davis doesn't really help us at all," Bolte said. "We have to communicate with each other and problem solve on our own." Regardless of where they put the hours in, McCabe feels that working jobs, in addition to schooling, teaches kids real life skills outside of the classroom. "The fast-paced business environment puts the kids through stressful new situations," McCabe said. "It teaches them responsibility and vastly prepares them for real life."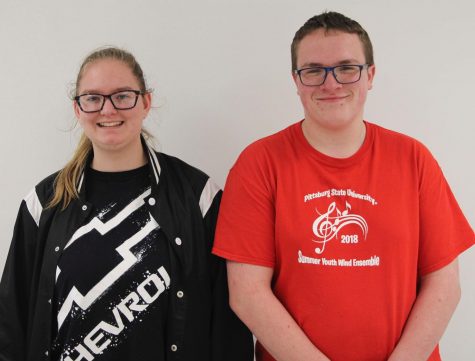 April 24, 2019
Earlier this month, juniors Logan Jones and Felicity Kramer traveled to Wichita to compete at the Family, Career and Community Leaders of America (FCCLA) Kansas State Leadership Conference from April 7-9. The competition is a statewide seminar held for students who qualified in a Students Taking Action With Recognition (STAR) Event or by nomination. "The conference has many leadership opportunities and training. It is also for anyone who wants to attend because they have breakout sessions and a speaker," FCCLA club advisor Krystal Henderson said. "There are also a lot of fun activities. It's a lot of different things with leadership, family and careers mixed together." While competing at districts, Jones earned a silver medal for his "Say Yes To FCS" STAR Event, which qualified him to attend the leadership conference. At state, Jones was also recognized as the J-East Chapter Member of the Year. "I was kind of shocked at first when I won the awards that I won, but I was also really proud of myself. Each award I won shows the amount of time and effort I've put into this club by making it into a better place," Jones said. "By being the J-East Chapter Member of the Year, that means that I fully get to represent my district, which is something that I consider to be the most rewarding part of it. It takes a lot of hard work and you have to show an interest in making the club a better place — not only for you but for your members, your advisor, your community and your peers." Alongside Jones's accomplishments, Kramer represented District J-East, her district, with other newly elected officers and was sworn into office for next year. "To be able to represent the J-East District is such an honor," Kramer said. "I truly feel like I have something to offer the club and being secretary officer gives me that. In order to be a good leader you need to be caring and motivated, not to mention showing an interest in the program. You also have to go to districts and state, which is a great experience for anybody and everybody." Although this is only their second year in FCCLA, Jones and Kramer said they feel they have improved the organization and that attending state improved the club's future. "With the FCCLA getting to go to state it helps us promote the club to get more people involved and to get people more aware of what it is," Jones said. "This will actually be able to help more kids to be able to go to state next year and maybe even on to nationals in the future in order for us to get more recognition." According to FCCLA Club Advisor Mrs. Henderson, expectations for the club range from getting more members to even creating t-shirts for the program, along with attending more Family Consumer Science (FCS) related conferences. "Next year, I think [Kramer and Jones will] continue being chapter officers. I think that they'll only help our organization grow more and more. They're both very committed to the club and are both very self-driven," Henderson said. "They definitely have deserved everything they have received so far. I look forward to seeing what they do next year and that they'll only do better in the future because they made it to the state level."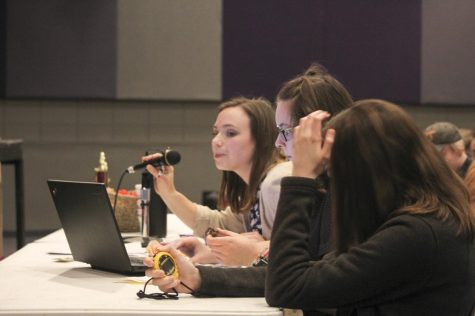 April 10, 2019
The Book Club will be putting on a spelling bee at 6:00 p.m. in the PHS auditorium tomorrow, April 11. With over 60 expected participants, the bee has had both high school students and a small group of middle school students sign up. The club is offering prizes for both contestants in the bee and also raffle prizes at the door for people who attend. "There's a $100 prize package for the first place, a $25 prize package for second place and $10 prize package for the third place," English teacher and book club sponsor Emily Rountree said. "The prize packages are mostly gift cards." The door prizes will consist mostly of hoodies and shirts, as well as books and gift cards. The club was able to offer these prizes through local business sponsorships. "It's been really cool to see how many businesses are interested in donating to us," Rountree said. "That's what we've been relying on for prize packages and for the door prizes and it's been pretty overwhelming how much the community has supported this." Contributing businesses include Root Coffeehouse, Jock's Nitch Sporting Goods, The Pitt, Gusano's, The Mall Deli, Cafe Del Rio and more. Although he has never participated in a Spelling Bee before, junior book club member M. Joseph Lee signed up when he learned about the prizes that were offered for competitors, "The prizes were an influence; I want that $100," Lee said. Lee said he is excited and that if the spelling bee takes place next year, he would compete again. According to Rountree, the goal of the spelling bee is to raise money for book purchases. Although the spelling bee is free to enter, donations are welcomed. As well as donations, a sale will be held during the spelling bee, in which baked goods will be available for purchase. The proceeds will be used for book purchases as well. The purchased books will be distributed to students throughout the district. After the spelling bee, Rountree plans on going and reading to children throughout the district. Rountree also wants to do the spelling bee again in years to come. "It depends on our success this year," Rountree said. "But...I think it's a fun idea."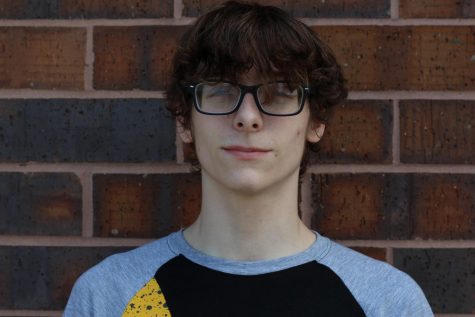 Story by Hannah Gray, Reporter
May 20, 2019
Junior Dominic Hyatt finds it difficult to balance his job, school life and home life. Dealing with his home life and school work while working up to 50 hours a week fills his schedule. According to Hyatt, after he turned 16, he immediately went out and looked for a job hoping to fill the holes in his home life. "With my home life, I didn't know if I was going to be safe. I didn't have [a] home really. My life was very unstable," Hyatt said. "There wasn't much food and I didn't have clothing. I wore the same clothes every day of every week. I felt like a job would help me with that and I would have food and I could get clothing." After some searching, Hyatt settled in at McDonald's as a presenter in the drive-thru. Not long after, he was offered a spot in management training this summer. "My manager asked me if I wanted to become a manager and I told him that I would love to. That summer he was going to start me in management training," Hyatt said. "He told me I didn't have a choice and that I was the perfect fit for it. So with everything going on in my life that was the happiest I had been in a fat minute." Hyatt then realized he would have to rearrange the priority of his activities. "I used to do color guard for band my sophomore year and when I found out that I was going to do the management training I realized that I wasn't going to have time to pick that up because I would be running shifts," Hyatt said. Although Hyatt knows the downsides, he says this is the best thing for his future. "On a resume going anywhere, it will feel really good because this is my first job and I've been here not even a year but I'm getting thrown into management training. If any high employer sees that, they know that I can be something," Hyatt said. "I absolutely feel like I am better off since I have gotten my job." Between school and work, Hyatt said he has to learn how to balance his time-consuming job and his education. "I really try to focus on getting stuff done for school at school. I've never brought home a whole lot of homework because I work to get it done at school," Hyatt said. "Getting a job shows that the world isn't all rainbows and butterflies. You have to work for everything you ever want in life. The more you input the better output." Hyatt knows this is a big accomplishment, but admits that he isn't satisfied with himself yet. "Throughout my entire life I have had a wide range of problems and I feel like this is my escape route and that this is my way out," Hyatt said. "I just have to keep working and working and I know I will get there. I know I can get somewhere in life."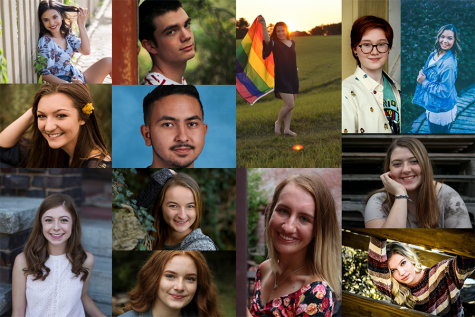 May 14, 2019
Click on the images below to read 14 students' final words about their time on the staff of Pittsburg High School student publications.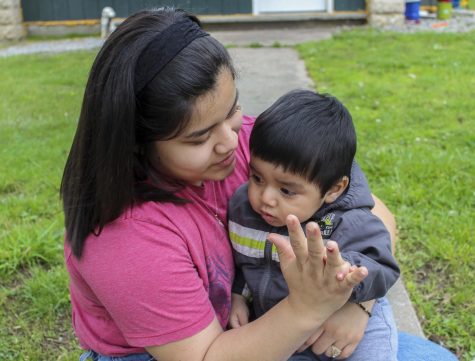 May 11, 2019
Click below to view the life of junior Neira Garcia. Garcia is the mother to 11-month-old Daniel Garcia.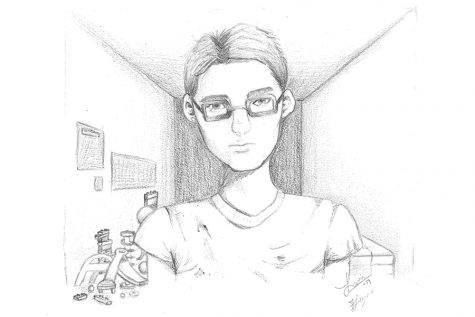 April 29, 2019
For 28 days, senior Dacota Storm Price's home was the small visitors room of a KVC Kansas foster care office in Pittsburg. Price's time in the office would follow the same routine. During the day, he would eat the Hot Pockets or chicken nuggets the workers heated up for him for breakfast, lunch and dinner. During the night, he would sleep with his feet hanging off of an air mattress. A KVC worker would check in on him eight times a day and take him to shower at Pittsburg State University (PSU) twice a week. When the office workers needed the room for a visit, they'd temporarily move him into a cubicle. The rest of the time, he spent sitting, wondering about his future. "Knowing that nobody really wants you, it's kind of... gut-wrenching," said Price, who was first placed in care at 15. "Me, I have a lot of thoughts running through my head, so I'm just like, 'Well, is somebody ever going to come get me? Am I going to be accepted? If I do, what are they going to be like?' It's just a bunch of questions just ran through my head that time. A lot of anxiety: a lot of turmoil." Price wasn't the only child spending nights in the office, waiting on the foster care contracting agency to transfer him to a new placement. He heard kids come in and out; they slept in the conference room next to him. KVC, the lead foster care contracting agency on the Eastern half of Kansas, has come under fire for allowing foster children to sleep in offices. In September of last year, The Kansas City Star broke the story of a foster teen who reported she was sexually assaulted inside a child welfare office. According to The Star's coverage, in September of 2017, private foster care contractors reported that children had stayed overnight in their offices more than 100 times in the past year, and in April of 2018, dozens still did. According to Sherry Briggs, a foster care permanency supervisor at KVC, it's been about a year since any kids have had to spend the night in Pittsburg's KVC offices. "I would say at that time, there was just not enough," Briggs said. "Some of it was circumstances of the children and some of it was not enough resources, or places for children to go. We have come up with more recent resources — more homes, more foster homes." Price's stay in the office was after three moves. He moved after his first foster dad, who he lived with for seven months, lost his foster care license when Price and his foster brothers hotlined DCF to complain about his abusive behavior. He later lived in a group home in Topeka and ran away from the psychiatric treatment facility KVC had placed him in. According to the Kansas Department for Children and Families (DCF) Kansas Child Welfare Factsheet, the average length of stay for a child who ages out of foster care was 37 months as of June 30, 2017. Ever since he first entered the foster care system in 2016, moving placements became a new norm for Price. "It's bad when you can say you're used to it," Price said. "I don't really think about [moving] anymore. I'm just like, 'Oh, I'm moving, that's happening again, okay. Where am I going to this time?' I don't get my hopes up too high anymore because I always get them brought down." The Child Welfare Information Agency defines foster care, also known as out-of-home care, as a "temporary service provided by states for children who cannot live with their families." A child can be placed in foster care for multiple reasons, including abuse, neglect, illness and more. In Kansas, DCF determines and investigates whether a child should be placed in foster care. When DCF separates the child from their family, the organization assigns him or her to a foster care contracting agency, which determines the child's placement. KVC, the agency Price was assigned to, typically supervises children on the Eastern half of Kansas. The most common outcome of foster care, according to KVC, is to "safely reunite" youth with their families "as soon as possible." However, according to the most recent Adoption and Foster Care Analysis and Reporting System report, on Sept. 30, 2017, of the 442,995 children in foster care, only 56% had a case goal of reunifying with their parent(s) or primary caretaker(s). Other goals included emancipation, adoption, guardianship and more. Price joins 4% of foster care children in having a case goal of emancipation. "When I turn 18, there is nothing in this world that's going to keep me in that care because when I turn 18, I have all the right to walk out of that court office out of foster care," Price said. According to DCF, last month there were 3,922 kids in family foster homes in Kansas and 7,445 total kids in care. A foster family home can only license for up to four foster children. "We have more foster kids coming in than we do have foster homes," said Morgan Woods, a foster care worker at TFI Family Services. "That's why all of our agencies are getting the word out about foster care. It's difficult right now to keep kids in their home county due to a lack of homes." In Crawford County alone, there were 136 kids in foster care on March 31, according to DCF. Counselor Stef Loveland, a frequent speaker at adoption and foster care conferences, works individually with students in foster care and their foster families. According to her, the growing amount of children in foster care makes the system more complex to manage. "It's a beautiful thought in its origin," Loveland said. "I want to be positive about that, but the reality is there are so many children in this system that it is very difficult to give every child what they deserve and what their families deserve." Because KVC couldn't find Price a foster home in his home county, they placed him into a group home in Topeka instead. Instead of foster parents, the home had a supervising staff. "I had no problem with that placement," Price said. "The only reason why I was so frustrated is because I didn't understand any of the things that were happening before [my first foster dad] and I was still, I guess, going through that and all the case workers. I was angry. I was frustrated. I didn't know how to properly let it out. I was never taught." One day, Price could no longer hold his frustration in. He kicked the wall in his room, and left a hole in it. After the workers found out, he was transported to a juvenile detention center (JDC) and later to a psychiatric residential treatment facility (PRTF). Price would later run away from the PRTF with one of the patients he met there. For six weeks, they were out on the streets — homeless. Halfway through his second month, Price turned himself into the police. "KVC had said I was depressed and I needed help," Price said. "I didn't feel any depression. I had told them, 'Hey, I'm not depressed, I really don't need this.' They were just like, 'Hey, you have no choice in the matter.' It was stressful. It was a struggle to make ends meet to survive. Most of the time, I was hungry and cold.'" According to DCF, 91 of the 7,445 children in foster care in Kansas ran away from their placement last month, while 80 lived in independent living homes. After sleeping in the KVC's visitors office for 28 days, KVC placed Price into an independent living home, where he had his own apartment, kitchen and roommate. He was taken out of the home after he violated regulations. After staying in a JDC for a month, he stayed in a temporary foster home for three nights, until KVC found a family for him. Currently, Price is living in a foster family home with a foster dad. His final court hearing is on July 18, when he has the choice to be emancipated. Along with moving towns over the past two years, Price also moved schools. According to Loveland, the normal amount of credits required to graduate at PHS is 26. For a student in foster care, it's 21. "That honors the process of if a student needs to move and it's out of their control and maybe loses credits based on things that happen that were outside of their control," Loveland said. "This has been put into place to help with that piece." Because he only has 14 credits due to online schooling, Price will graduate after completing summer school. After being emancipated, he plans on taking a gap semester and then attending PSU. As a result of his participation in the Gaining Early Awareness and Readiness for Undergraduate Programs (GEAR UP) — a federally funded college access program designed to help students in foster care prepare for post-secondary education — the state of Kansas will pay for his tuition. When he reflects on his two years in the foster care system, Price recalls the lack of stability. "I would never wish foster care on my worst enemy, like I don't care if me and this person have been through hellfire, because it's so unstable," Price said. "You're so all over the place. You might expect to have some stable environment where you can finally relax and settle down, but no, you have to be on your toes all the time. There's so much instability. It's so stressful." Loveland believes foster care in Kansas is a systemic problem. Despite all of its challenges, she says the people involved in its workings are not at fault. "I guess I view it personally as a system failing, but I still believe in the people that are doing this," Loveland said. "I believe in these caseworkers. I believe in these therapists. I believe in the after-care managers, like I believe in the organization. I believe in the foster families. They have my utmost respect and honor. It is a system that I believe is flawed — not the people."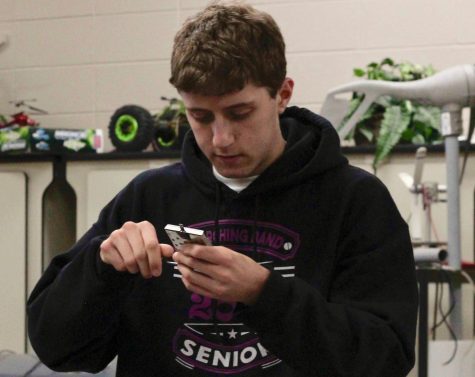 April 24, 2019
Effort, time and concentration are the three things members of the robotics team would say are required to build a robot. Recently, the team has spent time working together as a team so they could get ready for the Greater Kansas City Regional FIRST Robotics Competition. "Once [the team] got working together as a group, [building the robot] went pretty smoothly," senior and co-captain of the team Sam Kirby said. "Then, it was just making sure everyone knew what they were supposed to be doing and how they should go about it but I think they've learned a lot this last year." The club started up a few months after the start of school, but building the robot didn't start until January. Before the team started to build the robot, they had to organize the team and start raising money for their supplies and competition fees. "We did an e-race drive earlier this year [and sold] laptops," Kirby said. "We have a few more planned coming up. We also go around to local businesses and say, 'Hey, if you want your logo on our t-shirt, banner, or robot please donate to the team and you will get put wherever."' After their fundraising was done, they began working on the robot for the Greater Kansas City Regional FIRST Robotics Competition. "Three robotics teams are put into one alliance and there's another alliance of three teams, and then each [compete against each other]. Those alliances change around until you get [into] the semifinals where the best robotics teams have surfaced," co-captain and senior Andrew Riachi said. "They line you up like [in] dodgeball and you pick your alliance and you get to stick with that alliance for the final matches." With the new members that had joined this year and how much they had to learn to work together as a group, Kirby said they had made a promising start at the beginning of the season. "We got off to a really great start this year," said Kirby. "It was amazing the amount of progress we made [on the robot] the first week and a half." Despite the progress the team made this year, they experienced some bumps in the road further into the season. "We were relying on some parts to come in and they did not [arrive] until several weeks after we ordered them," Riachi said. "And when you're talking about six weeks [to build] a robot, that is a huge setback." The robotics team competed in their third year at the Greater Kansas City Regional Competition and they placed 28th out of 36 teams, with a record of 4-7-1. While still in the earlier stages of team development, Kirby said there is a reason for optimism with their future progress. "What I am really looking forward to at [this] competition is the new members of robotics to see what they've been working towards all year and for it to finally click," Kirby said. "I really want them to leave there with a positive mindset and a positive view of the club."
November 26, 2018
158 days. Three months. Three articles. In journalism time, that's how long it's been since I embraced 50 passionate, talented student journalists in Washington, D.C., one-by-one, as tears welled up in my eyes. Tears for the future of journalism. Tears for how much my life had changed in three days. Tears for how certain I was that journalism was my career path. Though it's been so long, not a day goes by that I don't think about my time at the Al Neuharth Free Spirit and Journalism Conference last summer. Each year, the Freedom Forum selects 51 student journalists, who are rising high school seniors, to represent their state in this all-expenses paid journalism conference at the Newseum. This program was established in 1999 to honor the legacy of Al Neuharth, founder of USA Today, the Newseum and the Freedom Forum. This year, I was selected as the state representative of Kansas. During my four days at the conference, I was 100 percent immersed in journalism. I toured the headquarters of USA Today and watched an interview between Kellyanne Conway and Chuck Todd, on his show, Meet The Press. I heard from numerous successful journalists on a daily basis, including David Fahrenthold, a Washington Post reporter who won a Pulitzer Prize for his coverage of President Donald J. Trump's campaign, and Sara Ganim, a CNN reporter who also won a Pulitzer Prize for breaking the story of the Jerry Sandusky scandal. Before I boarded my plane to D.C., I knew I was passionate about journalism, but I wasn't exactly sure if it was the career choice for me. People around me were discouraging me from going into the field because of the low salary and the Trump administration's treatment of the press. But when I boarded my plane back to Kansas City, I was certain that I wanted to pursue journalism. Every journalist that I heard from had a successful career. One of the speakers, Mary Pilon — a Free Spirit conference alumna — had just published her book, The Kevin Show; a true story of an Olympic Athlete's battle with mental illness. Another one, Doug Mills, spoke with us about his 16 years of working in the Washington bureau of the New York Times. However, there was more to these journalists than just their work. Every single one of them had a passion for their craft. They loved their jobs and that's why they were so good at them. Hearing them speak reaffirmed that I want to continue telling stories for the rest of my life. The journalists at the conference also reminded me that regardless of the current administration's attacks on the press or the normalization of "fake news," real journalism does exist, and it matters now more than it ever has before. In addition, I was inspired by the future of journalism — more specifically, the 50 student journalists who attended the conference alongside me. I hold journalism near and dear to my heart. It's my passion, and I've shifted my schedule around entirely this year so that I could have time to pour my heart into it. The other students at the conference all made a difference with their words in some capacity, and were just as passionate as I was. We fed off of each other's energy and shared so many thoughts with each other. Attending the Free Spirit Conference also opened a door of hundreds of valuable connections, including both past alum and my own Free Spirit class. In fact, one of my friends from the conference was the first person to tell me that I was nominated for three of the National Scholastic Press Association's individual awards, and as soon as she did, our group chat blew up with compliments and supportive comments for me and the other free spirits who were nominated. Plus, we all cheered extra loud for each other at the Nov. 1-4 NSPA Convention in Chicago, when our names filled the awards screen. My four days at the Free Spirit conference solidified my commitment to journalism and inspired me to bring back that same passion I found in Washington to my own staff. If you are a junior, and you'd like to experience this trip for yourself, click here to apply.
October 30, 2018
Did you actually use Purple Power Hour? I don't know about you, but Purple Power Hour (PPH) gave me a chance to finish homework and catch up on work I didn't have time to do otherwise. Between writing stories for The Booster Redux and working after school 20 hours a week, those 50 minutes were precious to me. Last April, administration implemented a new schedule with a new lunch structure. It lasted 50 minutes and was originally intended to give students an opportunity to catch up on school work, meet with teachers or just relax. But a few weeks into the new school year, PPH was suspended until further notice due to student misconduct and concerns for safety. Sitting in the lunchroom, you'd see chaos. Students were walking around, some even arguing with each other and many were leaving behind trash all around the lunch tables. Administration's solution to the problem was dividing PPH into two periods of 25 minute lunch blocks. The other 25 minutes is a required study hall session. The suspension was a necessary consequence. However, there was zero warning before taking away our hour to work. Rearranging our work time and taking away the opportunity to manage that time interrupted our school day and confused us. Having an hour to work on homework, see teachers for extra tutoring and having time to talk to my friends really helped me deal with the difficulty of the school day. Not having that extra hour might not seem like it would make a difference, but it definitely did. But there are two sides to every conflict. While it seems unjust to take away our time, students need to accept responsibility and acknowledge that it was their bad behavior that got it taken away in the first place. Teachers and administration make decisions with our best interest in mind. Teaching us accountability and keeping us safe is their job and enforcing rules is a way of guiding us in the right direction. Whether or not you agree with the change that they implemented, it's their way of teaching us responsibility. If you want your hour of freedom back, then we all have to do our part to clean up after ourselves and give our teachers and peers respect. After all, how hard is it to follow simple rules and pick up after ourselves?
October 30, 2018
During the first week of school, I acquired three textbooks, was required to make two binders for classes and carry all of my school essentials. Needless to say, having a locker was important to me. At first, lockers were not available to students. After students approached administration, it was decided to assign lockers after the first couple of weeks of school had passed. It was exciting for me, as well as my fellow classmates who also wanted a locker. While waiting for a locker, I carried a backpack, lunchbox and another tote bag with all of my textbooks. I believe having lockers is not only convenient but important for those with so many books and involved with multiple activities. When students are assigned a locker at the beginning of the year, the expectation is that they will get to keep it for the entire year and use it at their leisure. According to principal Phil Bressler, a vast majority of lockers in the building are projected to be removed by the end of the year. "We are going to have a bank on the west cross hall, half of the bank on the east cross hall and some lockers in the north vestibule," Bressler said. "We're going to go from well over 600 lockers to about 190 lockers." The main hall has already had a majority of the lockers removed and during winter break the remaining senior lockers will also be removed. "[The senior lockers] will be going away because they will begin the demolition of that section and that wall is coming out," Bressler said. "What we will do is call those kids in and say 'okay you are going to lose your locker, do you want a locker in another area?'" Seniors wait three years to get a locker in the senior section. Some lockers are even decorated with pictures and is considered a tradition. In addition, all lockers will be in the cross halls not conveniently accessible. Taking away lockers will have a significant impact on students, considering that each student usually has multiple textbooks in their possession. To me personally, carrying a heavy backpack full of books that may not even be used that day is useless. Even if the backpack is comfortably made, that doesn't mean that after a few weeks of hauling it around, it will still be comfortable. According to Kidshealth.org, over time [carrying a backpack] can cause the shoulders to become rounded and the upper back to become curved. Because of the heavyweight, there's a chance of developing shoulder, neck and back pain. Teachers should tell students the day before if their textbooks are going to be needed, rather than making them carry them around all day. "There was the elimination of lockers in the plan and there are no new lockers being added. So at this point, unless something changes, we will only have 180-190 lockers left," Bressler said. "If we have to add more lockers at some point, we will have to figure out where they will fit." A course of action that could be taken is transitioning to online textbooks and incorporating a technology-based learning system, sooner rather than later. Most students have access to a computer or a smartphone, so by moving the focus from textbooks to technology, it would eliminate the need for lockers and would also be environmentally friendly. "Paperless school?" More like, "paperless is cool."
June 12, 2019
A phrase heard repeatedly by four students while preparing to compete on a national scale was "Aim small, miss small." The National Archery in the Schools Program (NASP) held its National tournament this year in Louisville May 9-11. Freshmen Emily Schneider and Beth Blessent, junior Nic Bastion and senior Ben Blessent qualified for the National Tournament. In the weeks leading up to the tournament, the archers spent time with head coach Mary Packard to correct problems and perfect their form. "We doubled the practices and let them play challenge games against each other," Packard said. "The archers were pretty confident, we got a lot of practice in." Different strategies were implemented to help the archers prepare for the national stage. "The coaches would help me by taking videos of me from various angles," Beth said. "And then putting them in slow motion to slow down my shot and see what I was doing wrong." For Bastion, mental clarity was a priority. "The biggest part is just putting in the hours and getting everything down to muscle memory," Bastion said. "The hardest part about archery is just clearing everything out of your mind so you can focus on shooting." Schneider had to re-learn certain techniques after making a change to her bow only weeks before the tournament. "What I worked on the most was adjusting," Schneider said. "I had just made a change two weeks before state, I put finger guides on because it can help with releasing, and it changed my aiming point." Although no archers placed, Ben finished the tournament with a score of 277, Beth scored a 270, Schneider shot a 272 and Bastion ended with a score of 242.
May 17, 2019
Student-athletes, Joel Kafka, Laken Robinson, and Faith Turner breaks records during their 2019 Varsity track season. Watch this video to learn more about them and what they do.