Creating irreversible masterpieces
Estes uses artistic expression to overcome mental illnesses
I wanna stay in love with my sorrow, oh, but, God I wanna let it go.
For some people, these words are nothing more than Evanescence song lyrics. But for sophomore Temper Raign Jetamio Estes — who was diagnosed with clinical depression in middle school — they're much more.
"I completely understood those lyrics," Estes said. "I was in eighth grade when I was just completely out of it: not myself. It felt like I wanted to stay that way forever because it was the real me, or who I was supposed to be. After listening to that song, I was like, 'This is true, but I'm not me when I'm like that. It's not actually [who] I am.'"
Estes never wanted to forget those words that she instantaneously connected with for as long as she lived.
To ensure their permanence, she tattooed them onto her forearm, using a tattoo gun and ink from a professional kit her mom purchased for her from a tattoo artist online.
The lyrics make up only one of the 22 tattoos Estes has given herself.
"I like to think that every time I tattoo myself, I put thousands of moments and experiences into that tattoo. Little sections of my life that I want to keep with me, but I probably will and probably have forgotten, are still in that ink," Estes said. "I want to remember my depression because I grew from it and I grew because of it."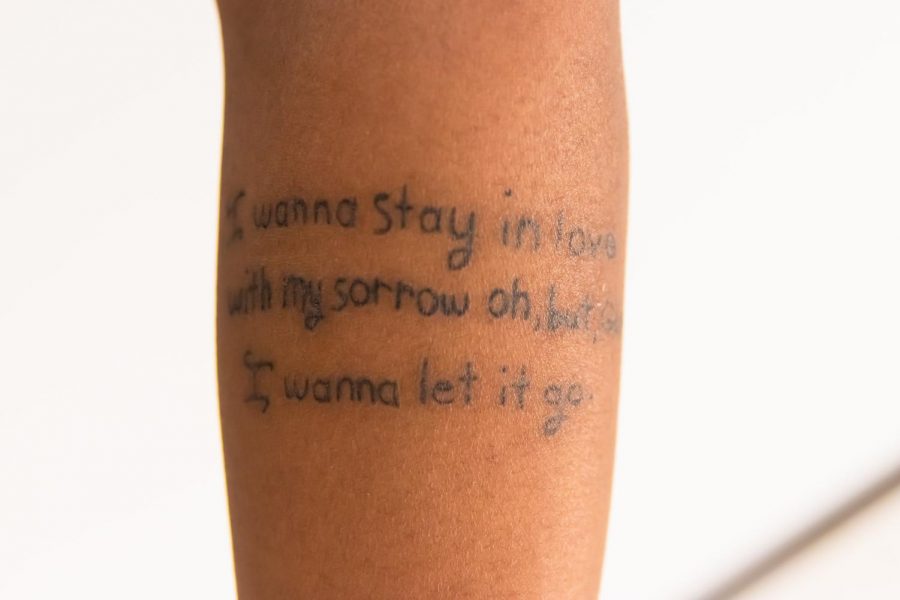 From an early age, Estes drew and doodled on a daily basis. Her interest in tattoo artistry, however, first sparked after she was mesmerized by the scorpio tattooed on her father's shoulder and her mom's name tattooed on his neck. After her mom bought her the kit, Estes started practicing on fake skin, and eventually moved to her own arms, fingers and knees.
"[With tattoos], you can give someone an experience or memory permanently on their skin, and they can keep it with them forever," Estes said. "The fact that it's almost completely irreversible makes it more exciting because you're putting masterpieces, or simple things that mean so much to one person onto them and it's kind of, for a lack of a better word, a magical experience."
From song lyrics to the chemical formula for depression, each of Estes's tattoos has some type of meaning behind it. The roman numerals on her wrist are the numerical translation of the word, "music." The markings on her knuckles are symbols of all of the bands she listened to during her depression. The word, "paradise," tattooed on the side of her left arm, is another Evanescence song lyric, representing the utopia that Estes yearns to find after she dies.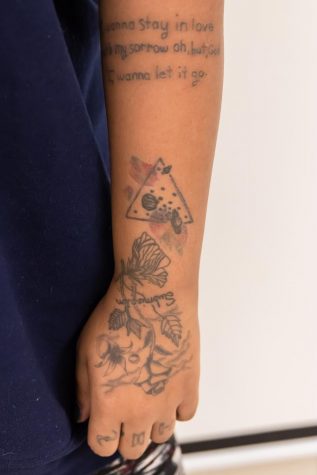 "I love [my tattoos], but every time I tattoo myself, I kind of get in front of the mirror and check it out and say I need more," Estes said. "I learned to appreciate that those tattoos are more than just an image and they're an experience for me. I'll always remember the feeling of tattooing them on myself, the process of tattooing them and the time that I did it. I could probably look at each of these tattoos and go back to a day that I did them."
Tattooing, however, doesn't come without pain for Estes. When she tried tattooing a moon onto her finger, she accidentally botched her skin. She also gives herself "stick and poke" or DIY tattoos, which according to Merriam-Webster, are "a nonelectronic method of tattooing that is performed by using a needle dipped in ink to place the ink one dot at a time into the outer layer of the skin."
Estes considers the pain to be a part of the learning process.
"I'd rather mess up my own skin than somebody else's whenever I get into tattooing," Estes said. "It's better to learn it now than mess up somebody else's."
Estes feels fortunate that she hasn't been discouraged by any of her peers or family members to pursue her passion for tattoo artistry. Her ultimate plan is to cover her entire body with tattoos, graduate from a college that offers tattooing courses, apprentice at a tattoo shop and open her own tattoo parlor.
"I've done quite a few pieces that I'm really proud of and I think I've come really far," Estes said. "I'm still working on technical application, but I think that's about it. I've always wanted to do [tattooing] — always been interested in it. I never thought that I would be half-covered at 15-years-old."
Your donation will support the student journalists of Pittsburg High School - KS. Your contribution will allow us to purchase equipment and cover our annual website hosting costs.