"Santa Clarita Diet"
Bayliss shares thoughts on a Netflix Original

Story by Cassidy Bayliss, Reporter
April 7, 2018
A Netflix original show, starring Drew Barrymore as Sheila Hammond, Timothy Olyphant as Joel Hammond, Santa Clarita Diet is a humorous twist on the world of the undead. Sheila and Joel are a married couple of 25 years. They are realtors in Santa Clarita, California, and live a pretty average life.
While showing a house one day, Sheila gets extremely sick and vomits ungodly amounts all over the master bathroom. She throws up a little red ball and that is the reason she became undead. The plot of the show is figure out why throwing up that ball made her crave human flesh. Sheila, who used to be a timid woman and would not stand up or speak her mind on anything, became the wildly impulsive person she always wanted to be when she "died". Sheila's first kill was Gary West, portrayed by Nathan Fillion, one of the realtors at the company she and Joel work at, and Sheila needed to get rid of him because he was "ahead" when it came to being the best realtor.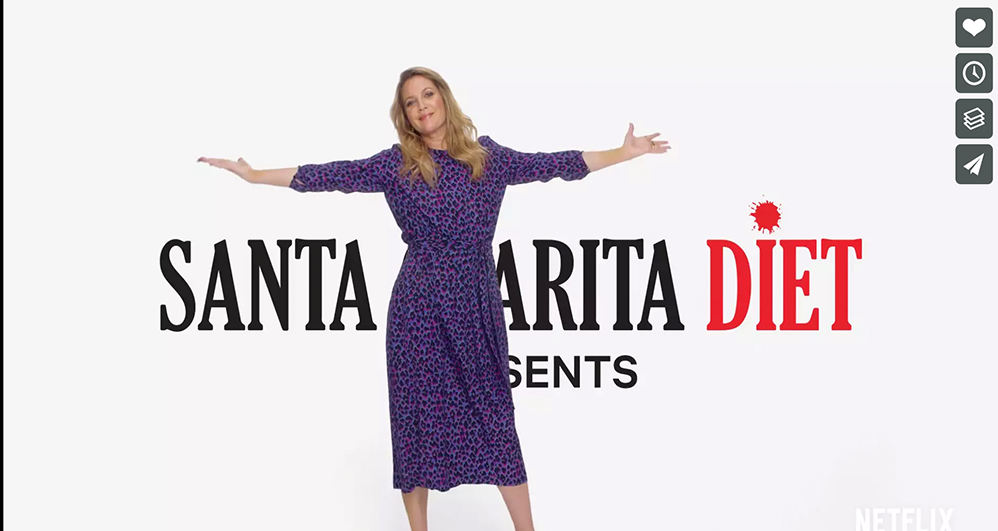 I have always been a fan of Drew Barrymore's movies, 50 First Dates, Never Been Kissed, The Wedding Singer, etc. so when finding out she was starring in a new show in 2017, I immediately got excited. I began watching the show and could not stop. I loved everything about it! I watched the entire first season in one sitting. I was eager for the second season to come out on March 23, 2018, but because, it had been a year since I watched the first season, I made sure to refresh my memory by watching the entire first season again, you could probably guess that it did not take long. and when it did, I finished it in a weekend. I have always enjoyed horror and humor, so this show spoke volumes to me. It was a great mix of both. This is a show that I would watch over and over again and never get tired of.
The idea of the show as a whole is a bit unrealistic, considering that she threw up an organ and became undead, yet somehow it has this sort of spunk that makes me love watching it. If you get uneasy by the sight of blood and guts, this show is probably not for you. Because Sheila is undead, she kills a people quite often. She even keeps a separate freezer at a storage unit with the bodies of people she kills. I thought this was a unique way to show a husband and wife bonding. Killing together made them closer to one another.
"
…It has this sort of spunk that makes me love watching it."
— Cassidy Bayliss
I could give you fifty reasons about why you should watch the show, but you just have to experience it yourself. Watch Santa Clarita Diet to see how things play out for the Hammonds, and see if they find a cure for Sheila's un-deadly disease. Overall, I would give this show a 4.5/5 star rating.