What to watch?
While staying home and practicing social-distancing, I've had so much time on my hands. What better to do than stay up until three in the morning binge-watch T.V. shows and movies on Netflix? Below are my favorite movies and shows while being stuck at home.
---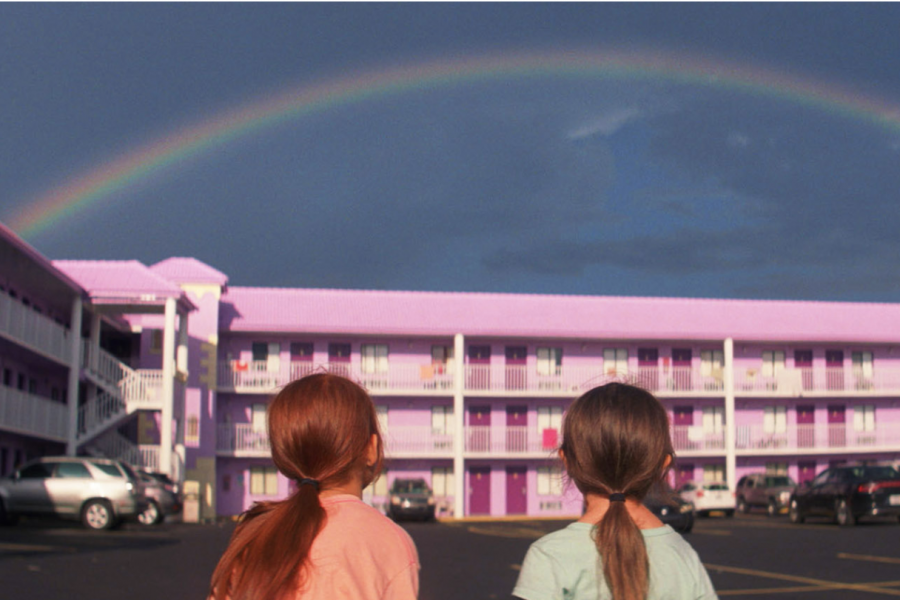 The Florida Project is my favorite movie on this list and one that just recently got added to Netflix. This is a story about a six-year-old girl named Moonee (played by Brooklynn Prince), who lives in a dingy budget motel room at the Magic Castle. This motel complex is home to many other children in similar situations to Moonee. Although to most the Magic Castle may seem like a cheap, run-down motel, to Moonee and her friends it's a place for wonderous adventures. She and her friends Jancey (Valeria Cotto) and Scooty (Christopher Rivera), explore the motel and some other places nearby without any supervision. Whether it's exploring the hotel manager's office or the abandoned apartment complex next door, Moonee and her friends find joy in the dog days of their summer vacation.
During the entire movie, you see these children experience the peak of innocence and the bliss that comes with it, while also seeing the harshness of poverty. Director Sean Baker intertwines the hardships of a single mother with the curiosity of a young child. The detail in every shot is what makes this movie so powerful. I'll stop before I spoil it, but overall, this is the best movie I've seen all year.
---

Another A24 production is Moonlight, which has been raved about since it came out, but for good reason. Chiron (Alex Hibbert), a young black man who grows up in the streets of Miami, never seems to fit in. At school, he's taunted because of his sexuality and his home life. We're introduced to Chiron as he runs away from bullies and in this scene, he meets Juan (Mahershala Ali), who becomes a friend and father figure to Chiron. We watch on the screen as Chiron grows up and struggles to come to terms with his sexuality and his desires to fit in with his peers. Broken up into three stages, the movie shows each chapter of Chiron's life brings a new narrative and shows the battles he's facing between having a struggling addict mother living in the projects of Miami and trying to withhold the expectations his peers have set for him.
In this unique coming-of-age film, director Barry Jenkins combats the toxic masculine cliches that are often put on young African American men in our society. He does this in a way that doesn't seem preachy but creates a sense of empathy for young Chiron. In both Juan and Chiron, we see them wrestle between vulnerability and acceptance over the course of the movie. Each shot is filled with color and vibrancy that only adds to the powerful tone. This movie will bring you to be invested in the storyline and could possibly change your perspective on the way African American men are portrayed in mainstream media. Between the vivid scenes and the dynamic storyline, I definitely recommend this movie.
---

Everyone and anyone has seen this movie, but it just recently made its way to Netflix. This story is another coming of age movie about a freshman boy named Charlie (Logan Lerman). Struggling to make friends before his first day of high school, Charlie writes letters to his only friend, who had just previously died. He goes through the typical first-day struggles like where he's going to sit at lunch, but he's quickly taken under the wing of seniors Sam (Emma Watson) and Patrick (Ezra Miller). Patrick and Sam are both self-proclaimed misfits who listen to "underground" artists like the Smith. They introduce him to their friend group and Charlie quickly fits it. Over the course of the movie, we watch Charlie experience high school and become himself. He cherishes the new friendships he's made and even falls in love. With all the ups and downs in this movie, I definitely cried a few times.
I've heard more good about this movie than bad, and I don't see any reason to not like it. Yes, it's a typical coming-of-age film, but it does what it was meant to do. It sucks the audience in and makes it seem like they are on the journey right alongside Charlie. Whether this movie is slightly cliche or not, it has the perfect amount of teenage angst, not to mention a great soundtrack.
---

This series was hard for me to not binge-watch. It kept me entertained during every episode but unfortunately only lasted two seasons. This drama takes place in the 1970s, which brought on many killers like Son of Sam and Charles Manson. Holden Ford (Jonathan Groff), a young F.B.I agent who worked as a hostage negotiator, started looking into the psychology behind why these murderers committed the crimes they did. These criminals seemed to be irrational in their killings and Ford wanted to understand whether or not that was true. He works alongside agent Bill Tench (Holt McCallany), a behavioral-science specialist, conducting interviews with these infamous serial killers. Starting off with Ed Kemper, the Co-Ed Killer, he interviews these murderers to try and gain insight into the compulsions and motives behind these murders.
This series adds a scholarly touch to the many true crime T.V. shows on Netflix. Director David Fincher makes the world of true crime entertaining while not glorifying the horrible crimes depicted. In addition to this, we also see great character development in both Ford and Tench during the second season. Ford becomes more comfortable in his career and takes risks in order to understand and gather the needed information from these serial killers. Tench faces marriage troubles due to his home and work-life balance. Over the course of the second season, we watch tension build between Tench and his wife until the final episode of season two. Between the amazing plot, writing and actors, this show has been one of Netflix's best originals.