National Disaster
Sullivan disagrees with attempts to reduce protected land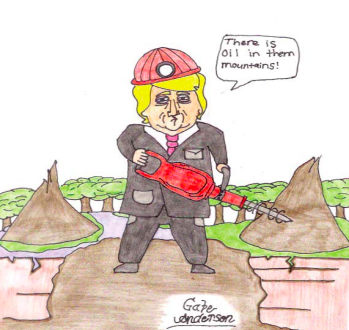 On Dec. 4th 2017, Donald Trump announced the reduction of Bears Ears by over a million acres, the largest reduction of protected land in American history. He also plans to reduce the size of Grand Staircase-Escalante by 45 percent.
This is an outrageous reduction of land protected under the Antiquities Act, established by Teddy Roosevelt over 100 years ago to protect national monuments. Bears Ears holds such historical value to Native Americans and their ancestors as well as the residents of Utah.
The U.S. National Park system boasts 84.9 million acres of land across 59 national parks. Of these parks, five are included in Kansas and tally over 100,000 visitors per year. There are also 129 national monuments that include protected by congress and the NPS. These protected, beautiful and historic lands have been the destination for travelers for over 100 years and continue to be some of our nation's most coveted lands. I am someone who loves the outdoors and I hope to one day visit parks and monuments such as Yellowstone, Yosemite and Bears Ears.
Trump intends to cut the size of Utah national monument from 1.3 million acres to a mere 220,000. Trump is doing so to explore mining, drilling, and other profitable ventures. Among these regulation rollbacks Trump will lease land for oil and gas for leasing opportunities, ease drilling regulations and reduce habitats for endangered species. A move that leaves the nearby inhabitants with ancestors that once claimed that land with the utmost anger. The Navajo Tribe has spoken out directly, including president of the nation, Russell Begaye.
"We will fight all the way," Begay said.
The land is legally protected under the Antiquities Act, since it isn't an actual national park. Trump, however, is challenging the ruling and if it is in his favor, it could potentially be the loss of millions and millions more acres of U.S. land given to land degradation. To see these lands with such rich history and being preserved in a delicate state be given away is truly a step in the wrong direction for our country.
If our own president cannot stand behind the lands that our nation holds dearly, it is the job of the people to speak up and reach out to protect them. I strongly encourage you to visit a national park or monument. They offer some of our country's best views and historical background. We have the privilege of possessing these lands as a country, let's use them keep them for what they are and stand by the groups that protect them.
Your donation will support the student journalists of Pittsburg High School - KS. Your contribution will allow us to purchase equipment and cover our annual website hosting costs.