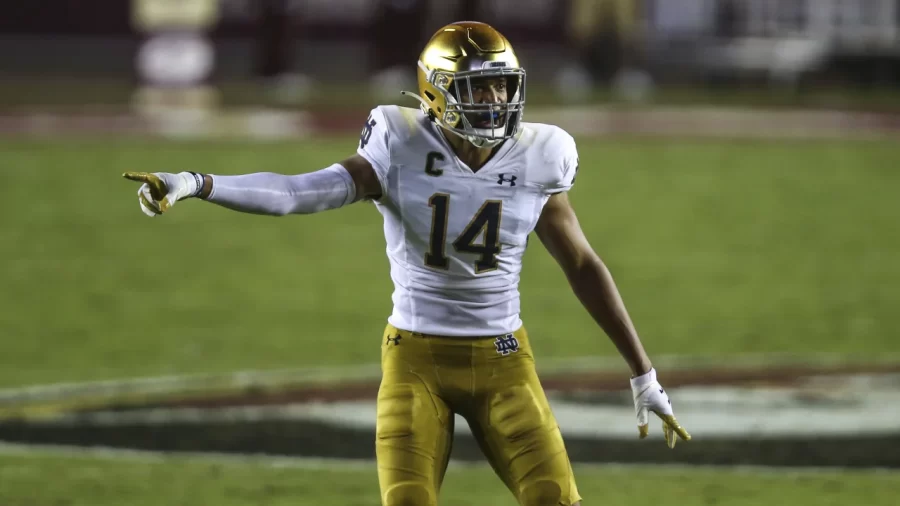 Ian's 2022 NFL First Round Mock Draft
Starting tonight, April 28, 2022, the NFL draft will begin. For football fans like myself, this is one of the most exciting nights of the year as we watch college players get promoted to the next level. More specifically, this will be an exciting draft for Chiefs fans due to the Tyreek Hill trade that left the Chiefs with twelve total selections in this year's draft. Whether they trade a few of those picks for players or other picks remains to be seen. This year, there are eight teams with more than one first round selection, so there are bound to be draft-night trades made. All of that aside, let's get into my official NFL mock draft of the first 32 selections.
#1 Jacksonville; Aidan Hutchinson, EDGE, Michigan: For the second year in a row, the Jacksonville Jaguars have the first selection in the draft. While they have many positional needs, they will most likely take the best overall prospect, which I believe is edge rusher Aidan Hutchinson from Michigan.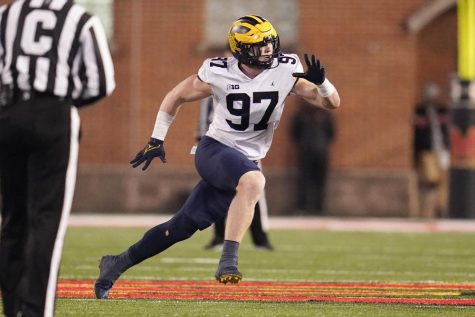 #2 Detroit; Travon Walker, EDGE, Georgia: Detroit is also another team with many needs, and I have them taking Georgia edge rusher, Travon Walker. Walker is a freak athlete and a versatile defensive lineman who had an impressive combine performance.
#3 Houston; Evan Neal, Tackle, Alabama: To put it lightly, the Texans are a dumpster fire. They traded away Deshaun Watson, got a new head coach, and didn't make any big signings in free agency. They are in rebuilding mode, and that leads me to believe they'll select a new franchise tackle, Alabama offensive tackle Evan Neal.
#4 NYJ; Ahmad "Sauce" Gardner, Cornerback, Cincinnati: Having two first round picks, the Jets have a lot of flexibility with who they will pick. Their secondary is a weak point, and they won't pass up on Cincinnati defensive back Ahmad "Sauce" Gardner's elite coverage skills and long 6'3" frame.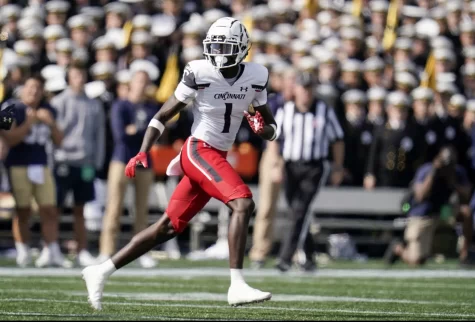 #5 NYG; Ikem Ekwonu, Offensive Line, North Carolina State: Like the Jets, the Giants also have two first round picks, and the offensive line is a glaring weak point on their roster. That being said, North Carolina State offensive lineman Ikem Ekwonu is the best lineman available and has experience playing multiple positions on the line. 
#6 Carolina; Malik Willis, Quarterback, Liberty: After the failure of the Sam Darnold experiment, as well as Cam Newton's failed return, the Panthers need to find their future at quarterback. I think the Panthers will select Liberty quarterback Malik Willis who had excellent performances at the senior bowl and combine.
#7 NYG; Kayvon Thibodeaux, EDGE, Oregon: With their second first round pick, I have the Giants picking Oregon edge rusher Kayvon Thibodeaux. After the offensive line, defense is their second biggest need and Thibodeaux would be a great addition.
#8 Atlanta; Kyle Hamilton, Safety, Notre Dame: The Falcons are another team that are likely entering a rebuild, and if Notre Dame safety Kyle Hamilton is available, I believe they will select him. Hamilton has potential to be a generational player at safety and a new franchise player for the Atlanta defense. 
#9 Seattle; Charles Cross, Tackle, Mississippi State: Things are going to look different in Seattle this upcoming season, with Seahawks legend Russell Wilson being traded to the Broncos. In this trade, among other assets, they received quarterback Drew Lock. That being said, I believe they will invest in their offensive line and select Mississippi State offensive tackle Charles Cross.
#10 NYJ; Drake London, Wide Receiver, USC: With the Jets' first selection, they chose a defensive player. So for their second one, I have them opting for offense. No wide receivers have come off the board yet so they have a lot of choices, but I think they will select USC wide receiver Drake London.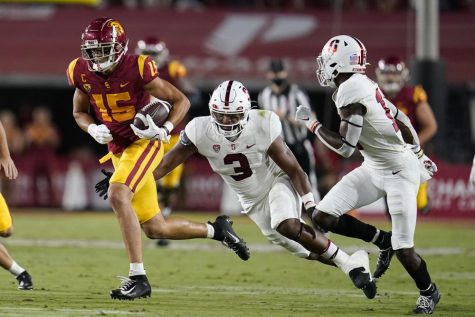 #11 Washington; Derek Stingley, Cornerback, LSU: After two seven win seasons, it doesn't feel like Ron Rivera's team is heading in the right direction. There are many directions they could go in in the first round, like quarterback, wide receiver, and defensive back. I believe they will go with the latter and select LSU cornerback Derek Stingley Jr.
#12 Minnesota; Devonte Wyatt, Defensive Line, Georgia: The Vikings also have many possibilities on what they could select. I believe they will go for a player on the defensive side, that player being Georgia defensive lineman Devonte Wyatt.
#13 Houston; Jermaine Johnson, EDGE, Florida State: The Texans are yet another team with two first round selections, via the Browns from the Deshaun Watson trade. I believe they will select Florida State edge rusher Jermaine Johnson. Johnson is one of the most interesting stories of the draft, as he started his career at Independence Community College in Kansas, before ultimately ending up at Florida State.
#14 Baltimore; Jordan Davis, Defensive Line, Georgia: After a season riddled with injuries, the Ravens are looking to return with a healthy roster and a new young star from the draft. With that being said, if Georgia defensive lineman Jordan Davis is still available, they absolutely need to select him. Davis is 6'6", 340 pounds, and runs a 4.78 40 yard dash, which is ridiculously fast for someone his size.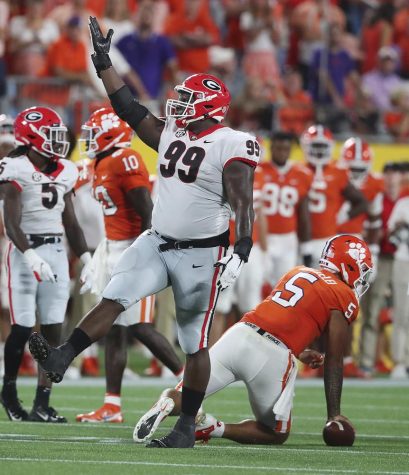 #15 Philadelphia; Chris Olave, Wide Receiver, Ohio State: Although the Eagles have had some bad luck when drafting early round receivers (JJ Arcega-Whiteside & Jalen Reagor), they do have a young star receiver named Devonta Smith. The Eagles have two first round picks this year and I believe they could select another receiver to pair with Smith, that receiver being Ohio State standout Chris Olave.
#16 NOLA; Trevor Penning, Tackle, Northern Iowa: The Saints are another team entering a new era and beginning a rebuild. Without forner head coach Sean Payton, the Saints are bound to look different. That being said, I think they will select a new franchise left tackle, Northern Iowa offensive tackle Trevor Penning.
#17 LAC; Perrion Winfrey, Defensive Line, Oklahoma: The Chargers are quickly emerging as one of the league's most dangerous teams, and they have only one glaring weakness, their run defense. In order to try to fix this issue, I believe they will pick Oklahoma defensive lineman Perrion Winfrey.
#18 Philadelphia; Andrew Booth Jr, Cornerback, Clemson: With the Eagles's second first round pick, I believe they will opt to draft a player for their secondary. With Gardner, Hamilton, and Stingley off the board, I think they will select the next best available defensive back, Clemson cornerback Andrew Booth Jr.
#19 NOLA; Garrett Wilson, Wide Receiver, Ohio State: The Saints have already picked an offensive lineman at pick 16, so I think they will select a new receiver to pair with Michael Thomas. Of the available receivers, I have the Saints selecting Ohio State wide receiver Garrett Wilson.
#20 Pitt; Kenny Pickett, Quarterback, Pitt: The Ben Roethlisberger era in Pittsburgh is over. Seeing another quarterback under center for the Steelers will look strange, but who will it be? They signed Mitch Trubisky in free agency and I believe they will select a quarterback in the first round and have them compete for the starting role in training camp. Who will they draft? I have the Steelers selecting Pittsburgh quarterback Kenny Pickett at pick 20.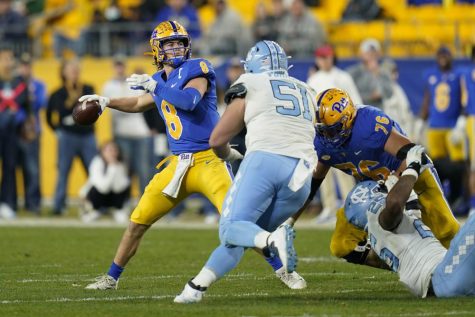 #21 NE; Devin Lloyd, Linebacker, Utah: After an embarrassing loss in the playoffs to their division rival, the Buffalo Bills, the Patriots are going to be aggressively pursuing their throne back. Bill Belichick's teams are always known for their defense, and I feel like they will beef it up this year. At pick 21, if Utah linebacker Devin Lloyd is available, I believe they will pick him.
#22 Green Bay; Jameson Williams, Wide Receiver, Alabama: One of the many blockbuster trades of this offseason had the Packers sending their star receiver, Davante Adams, to the Las Vegas Raiders. The Packers will likely attempt to replace Adams this year, and I have them selecting Alabama wide receiver Jameson Williams.
#23 Arizona; Trent McDuffie, Cornerback, Washington: The Cardinals have had a dramatic offseason with trade rumors surrounding Kyler Murray and skepticism concerning head coach Kliff Kingsbury. At this point in the draft I believe the Cardinals will select the best overall player available, which is Washington cornerback Trent McDuffie. 
#24 Dallas; Lewis Cine, Safety, Georgia: The Cowboys have a solid roster, but they more than likely will opt to build up their defense this year. At this point in the draft, hard hitting Georgia safety Lewis Cine would be a solid pick for them and I believe they will select Cine.
#25 Buffalo; Jahan Dotson, Wide Receiver, Penn State: Despite losing in the divisional round to the Chiefs, the Bills debatably have the best roster in the AFC. Josh Allen has solidified himself as a top 5 quarterback in the league, and I think the Bills will draft him a new weapon to pair with Stefon Diggs. With the receivers that are left, I believe the Bills will select Penn State wide receiver Jahan Dotson.
#26 Tennessee; Nakobe Dean, Linebacker, Georgia: Although Tennessee's defense played great last season, they don't have many positional needs, which leads me to believe they will draft a defensive player. At this point, if Georgia linebacker Nakobe Dean is available, I don't think they could pass him up. So I have the Titans selecting Dean at pick 26.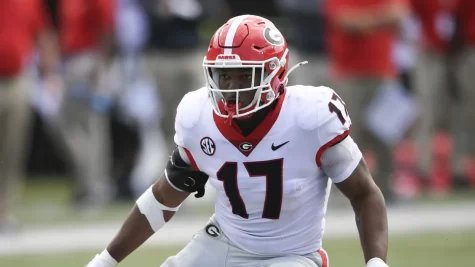 #27 Tampa; Tyler Linderbaum, Offensive Line, Iowa: At the beginning of free agency, it would've seemed like Tampa Bay would be in the market for a new quarterback. However, Tom Brady's retirement lasted less than 40 days. Former Buccaneer offensive guard Alex Cappa signed a contract with the Bengals, so I have the Buccaneers selecting Iowa interior offensive lineman Tyler Linderbaum as his replacement.
#28 Green Bay; George Karlaftis, EDGE, Purdue: After picking Jameson Williams at pick 22, the Packers' next positional need is edge rusher, after losing Za'Darius Smith to free agency. I have the Packers selecting Purdue edge rusher George Karlaftis.
#29 KC; Daxton Hill, Safety, Michigan: Finally, we made it to the Chiefs, my team. This year is likely one of the most important drafts in franchise history because we gave up our best wide receiver in an effort to build for the next decade. The Chiefs have many areas that need to be addressed like defensive back, edge rusher, and wide receiver. With pick 29, I believe the Chiefs will opt to draft a defensive back with Michigan safety Daxton Hill.
#30 KC; Treylon Burks, Wide Receiver, Arkansas: After addressing their need at safety with their previous pick, I think the Chiefs will attempt to get their next franchise receiver by selecting the versatile Arkansas wide receiver Treylon Burks.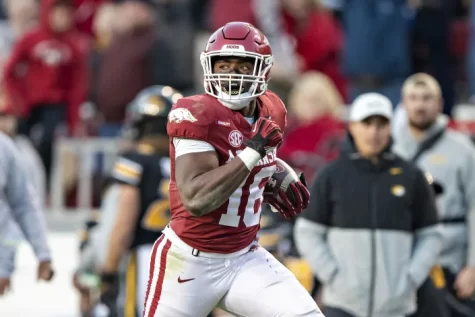 #31 Cincinnati; Zion Johnson, Offensive Line, Boston College: Anyone who watched the Bengals' 2021 playoff run saw that Joe Burrow's offensive line was lackluster, to say the least. He was sacked 19 times in the 2021 playoffs alone (for reference, Tom Brady was sacked six times in the 2020 playoffs). This is one of the few picks of the draft where it is nearly guaranteed that a team will select a certain position. That being said, I think the Bengals will select Boston College interior offensive lineman Zion Johnson. 
#32 Detroit; Christian Watson, Wide Receiver, North Dakota State: As a result of the Matt Stafford trade with the Rams, the Lions now hold the 32nd and final pick of the first round. After picking Travon Walker with pick 2, the Lions might opt to select a weapon for Jared Goff, who is still under contract with the Lions through 2024. This new weapon could be North Dakota State wide receiver Christian Watson, who is 6'4" and ran a 4.36 40 yard dash at the combine, which is ridiculous speed.
So there you have it, my official 2022 NFL first round draft predictions. I wish I could say this draft is perfect, but inevitably I will be proven wrong. I can't wait to see what I got right and what I got wrong. Starting tonight, we are officially one step closer to the first week of NFL action!