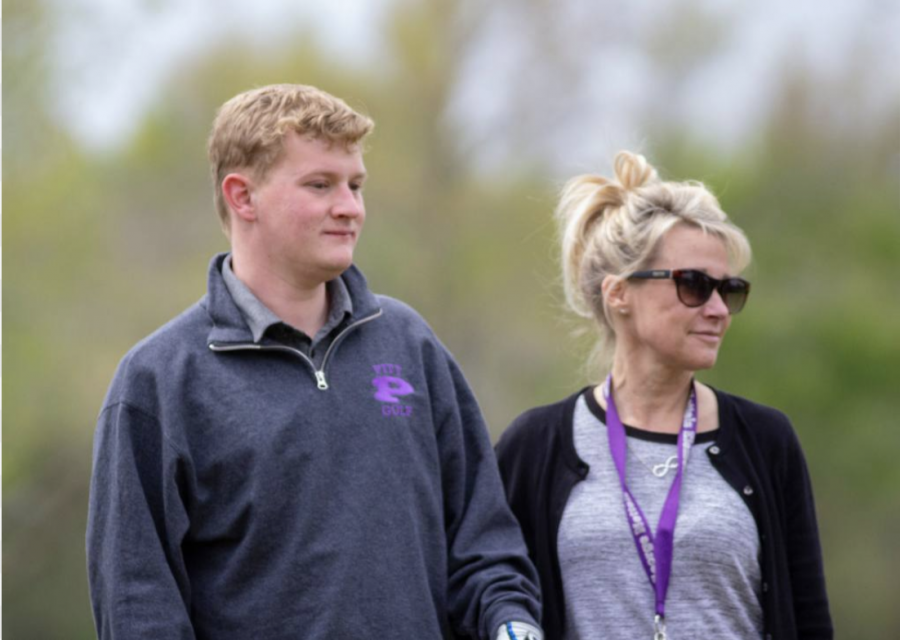 Going for gold
Senior Tyson Wiemers to compete in 2022 Special Olympics
May 25, 2021
Senior Tyson Wiemers has competed in the local Special Olympics since he was in elementary school. Despite being on the autism spectrum, Tyson has competed previously in the games for track and field, golf, basketball, bowling, and bocce. Now he will compete in the Special Olympics at the national level doing what he loves most–golf. 
The games will take place in Orlando in 2022, where Tyson will stay at the competition with his mom, Susie Wiemers, for 11 days and compete for a chance to advance to the international games. Other than having to raise 1000 dollars for travel expenses, Tyson will go into the competition without much preparation.
"The Special Olympics is awesome about letting them be kids and just letting them perform as they do, so there's not much prep work in it," Susie said. "The kiddos just kind of go and do their thing."
His recruitment to the Special Olympics on the national level was possible through the involvement of CEO and President of Special Olympics Kansas, John Lair. Lair saw potential in Tyson and gave him the opportunity to become one of two representatives from the state for golf.
Through all of his success, Tyson has had to overcome many obstacles that are unique to him. He is hypersensitive to loud noises, something that–in large enough doses–can be perceived as pain. In a high-stakes sports setting like the Olympics, this could present challenges.
"
The Special Olympics is awesome about letting them be kids and just letting them perform as they do."
— Susie Wiemers
"He has anxiety with anything new and different," Susie said. "He's got a lot of sensory issues so loud noises scare him and make him really uncomfortable. There's probably more that's difficult for him than he's able to even tell me because he [also] struggles with communication."
Throughout his high school years, Tyson played football. It was something that helped him to take control of his senses and prepared him for the environment of the Special Olympics.
"He used to say that Under Armour hurt him– that tight type [of shirt]," Susie said. "Yet when he played football, he wore all of that gear and I don't know that he was always comfortable. But he wanted to be on the team. He wanted to wear the uniform and he persevered. He's a tough kid and he's so motivated, running out on the football field for home games when the fireworks are going off. He's scared to death of those fireworks, but he wants to be on that team. His fingers are through his helmet in his ears, but he's at every game."
Tyson has never let his success be hindered by his disabilities and the Special Olympics will be  no different. No matter how small or large the challenge, he pushed himself to surpass it with the urging of his mom.
"Early on, I felt like our biggest problem was… giving him too much help," Susie said. "I want him to work with things and prove to himself that he can do them. All we've had to do is kind of open the door and nudge him to try. After that, It's been all him."