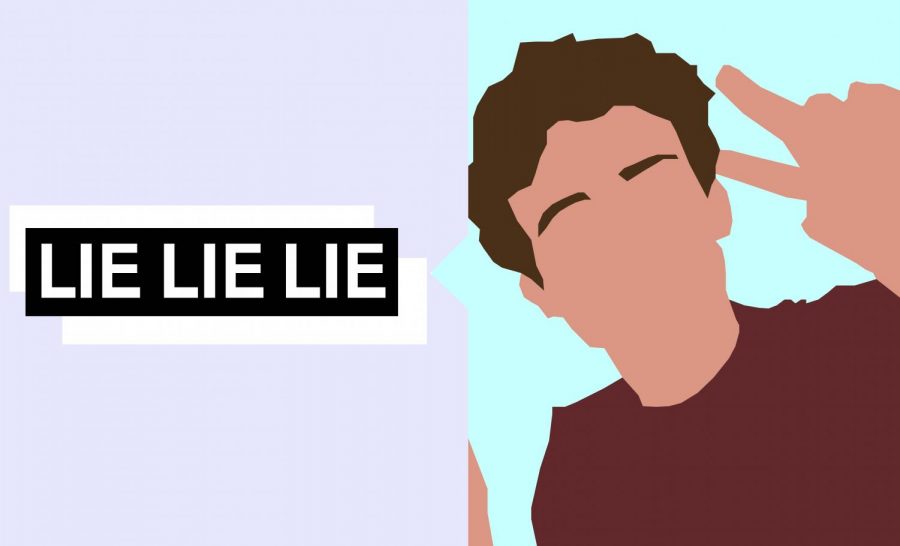 Bring on the lies: 'Lie Lie Lie' by Joshua Bassett song breakdown
Song summary:
 Lie Lie Lie is a song about Joshua Bassett hearing about a friend talking and lying behind his back for a long time but he heard all of the lies and had enough of it, he posted on his Instagram story saying "I wrote 'Lie Lie Lie' after I found out a friend had been lying about me behind my back for a long time. It always sucks to hear that someone you thought you could trust would throw you under the bus when it benefits them. It happens to all of us, and I think all you can do is seek out people that build you up rather than tear you down." Bassett released his song days after 'drivers license' by Olivia Rodrigo which caused some controversy but the song has been shown on his Instagram since Nov. 7, 2019.
Let's break down the lyrics and the meanings behind them:
[Verse 1]
So they told me all the things that you said- 
My meaning: In the first verse it is clearly talking about the person (which in this case would be Johsua Bassett) knows about all the rumors that have been going around that the over person has started.
Bassett: (1)
Runnin' all over my name- 
My Meaning: Bassett's name  won't stop coming out of the other person's mouth and is non stop continuing to say stuff about Bassett.
Bassett: Bassett grew up in San Diego California and everyone kind of knew each other and when someone spreads something and they know it's false, it can be damaging for the person in many ways. (1)
And you're acting, oh, so innocent-
F: The person saying the rumors is just acting like they never said those things is acting like a victim of something the "didn't do"
JB (2)
Like I'm the only one to blame
JB : Bassett believes that everyone has their own faults and its easy to see everybody else faults,  its funny how people play dumb, Bassett has had situations where he had called someone out and he knew that things were being said about him and they completely played dumb (2)
[Refrain]
You've been lying to yourself
Lie to everyone else
My meaning: The person spreading the rumors knows that they are lying to themselves and then they are continuing to spread those fake rumors to everyone causing them to lie to everyone else.
Bassett: (3)
Only thinking about yourself- 
My meaning: The "victim" of starting the rumors is just thinking about themselves and not thinking how the other person is feeling about all these lies they have started.
Darling what the hell ("I love you, why are you doing this to me"- Bassett)
Bassett: The reason why Bassett is hurt is because he cares about the person and what they say and what they think about you and that confusing about it (3)
[Chorus]
I know what you say about me
Bassett: (4)
I hope that it makes you happy (1. I hope this makes you happy, I hope you feel better about yourself after what you're doing, 2.  I hope it makes you happy, realizing that you can't get me off your mind)
My Meaning: Bassett is aware and knows about the rumors being spread about them and he just hopes that the lies try to make the person feel good about themselves. 
Bassett: (4)
You can't seem to get me off your mind (Get me off your mind) 
JB: They are claiming to not like Basseet or to say the things about him, but you can't get him off their mind, clearly he is getting you in some way, and clearly they care, if they truly didn't care, they wouldn't be saying what you are saying(4)
I know you're lying through your teeth 
Bassett: (5)
You told them the lies that you told me
I've had enough of it this time (Had enough this time) (Realizing that this is a pattern, this person is actually trying not to change and they're trying to hurt me and setting the boundary. It's more of an internal thing than an external thing, mentally being like ok, I need to separate myself from this person and recognize the toxicity of this person and they you know its not worth it to get all caught up, when they are just who they are and Ive had enough this time and I'm going to set a boundary and take a step back)
 My meaning: The person saying the stuff is trying to like stop by just keeping their mouth shut but it doesn't work and they repeatedly tell the same like and Bassett is just done and tired about the rumors being made about him. 
Bassett: You do this to everybody, not just to me, you'll throw this person under the bus if it makes you look better and recognizing the toxicity  
[Refrain]
So you can lie, lie, lie, lie, lie
Go ahead and try, try, try, try, try
It won't work this time, time, time, time, time
Kiss your ass goodbye, bye, bye, bye, bye
Kiss your ass goodbye 
My Meaning: You can continue to make likes and try to make a bad reputation of Bassett but he is done and has stepped his foot down and is taking steps to stop, he just practically wishes the person making the rumors a goodbye.
Bassett: It felt so nice to say that, it's a real thing, I'll kiss your ass goodbye, he is not gonna put up with it. It's not really worth it for Bassett, if you're going to be toxic and lie and manipulative and all that stuff, It decently felt good to say kiss your ass goodbye
[Verse 2]
So you're telling them it's all my fault 
My Meaning: The person making the rumos is making accusations that Bassett is the one to blame inside the rumors being said.
Bassett: (6)
You're the victim this time
 My Meaning: the person starting the rumors is just hiding that they are the ones starting it and is just playing the victim and acting like nothing has ever happened.
Bassett: I've had people I know admit that when they feel powerless in a situation, the only power they have is to lean into being the victim, when someone is getting attention and getting validation by sort of playing the victim (6)
And you wanna make it seem like it's your call
You're acting like everything's fine.
My meaning: The person making the rumor is playing a game, making risky moves and then they just act like everything is right and that nothing has ever happened.
Bassett: They told me what you said, I know, but you're acting like everything is fine, you have no idea that I know, and I think that it's easy for people to flip and pretend to be your best friend and in ways they are but in reality, they will throw you under the bus as soon as it benefits them
[Bridge]
I know what you say about me
You can't get me off your mind 
My meaning: Bassett is aware of the rumors, he knows what you have said about him and Bassett is realizing that they can't get him out of his head, like if they are obsessed over Bassett.
Bassett: I ultimately confronted this person and we actually had a great conversation and w were able to move past it because I kind of put my foot down and had a really tough conversation 
In conclusion, that is a lot of information to process but in reality it is a pretty good song and it is in my opinion one of those that makes you feel good songs and a personal favorite song of mine. If you like acoustics or remixes you can check out Joshua Bassett's 'Lie Lie Lie (R3HAB Remix) and 'Lie Lie Lie (Acoustic Piano)' they are also incredible songs to see the content Joshua Bassett really holds.