Due to the COVID-19 pandemic, the Marching Dragons have faced multiple challenges this year. From being split into three different class periods to ensure social distancing and having
Band marches through Covid chaos
Due to the COVID-19 pandemic, the Marching Dragons have faced multiple challenges this year. From being split into three different class periods to ensure social distancing and having remote learners play the instruments through Zoom. In addition to this, the band isn't able to attend the annual Southern Plains Marching Festival in Andover.
Band director Cooper Neil continues to remain positive despite the challenges.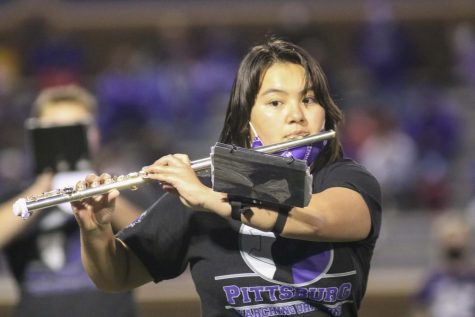 "I think that 2020 has really taught me to enjoy the things we currently have rather than the things we want or that we perceive," Neil said.
Despite the challenges Neil encounters on a daily basis, remaining optimistic has guided him through his lesson plans, ideas and has helped him knowing what to do along with when the right time to do it is.
"[Middle school band director and PHS assistant band director] Mr. Reimer and I have really had to revamp our curriculums not just to make our curriculum work in this current timeline, but to make our curriculum more well-rounded, so that the things we do now will be things that we continue to improve on," Neil said. "But in a way it hasn't been super challenging thanks to our wonderful counselors at PHS who worked hard to get all the things I needed done and make sure all my remote learners were put into one class period."
Due to the global pandemic, there have been many changes to the way the band does things. They cover the openings on their instruments to make sure no condensation, saliva or any other germs can come out while playing.
"It definitely is a barrier to the sound, but also I think as an added bonus we have a lot of students who are hyper aware of what they need to do to get their sound out and when the coverings do come off," Neil said. "I think we will have seen a huge improvement in our tone quality as an ensemble."
Mellophone player senior Genevieve Allison feels she is missing out on the full experience of band. Since the band has been split up into three classes, the Marching Dragons only play together Tuesdays and Thursdays at 7 am.
"I think this pandemic has affected the band a lot. Usually early morning rehearsals would last until the end of first hour because we would usually have band as our first hour. That's not the case now because the band is now split into three separate classes," Allison said. "Now I'm missing a lot of the marching band experience because I'm missing an hour or so of rehearsal."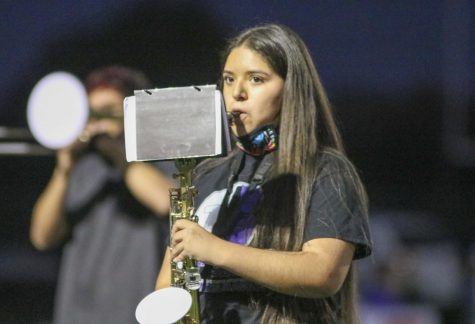 For percussionist section leader senior Josh Ortolani, not being able to attend band camp and being a remote learner was challenging.
"I'd say the main thing for me is that I don't get as much time to practice with the whole band. Also I feel like it affected the repertoire that Mr. Neil chose for our show, in that it is a little bit more simple, cut and dry. We only marched one of our songs on the field and it's a very simple drill," Ortolani said. "We didn't have band camp which affects freshmen and their band experience since they're only learning some of the basics of marching band."
Throughout the chaos that is COVID-19, the Marching Dragons are breaking through by wearing masks, social distancing and focusing on what we have in the present.
"If we continue to do things right," Neil said. "We will eventually see a positive change."
Leave a Comment
Dancing through difficulty
Megan Webb, the PHS Dance Coach, who has been involved in dance since she was 2, was also interviewed. She has been coaching dance since she was a sophomore in college and has never had to deal with something like this pandemic in her years of coaching.There can be many challenges when coaching a dance team while trying to limit contact, time without the mask, and trying to be more spaced out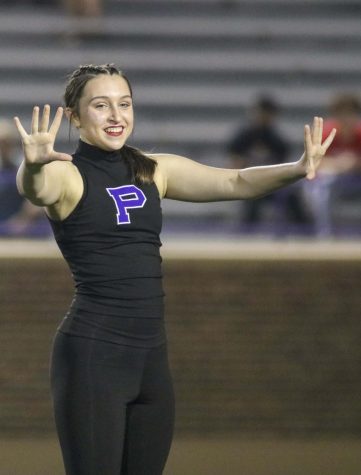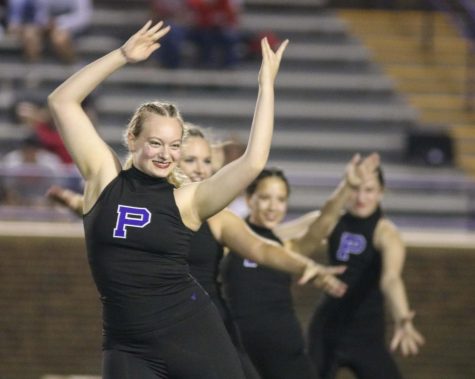 ¨The pandemic has affected coaching in a few different ways this year. Of course the obvious is that Taylor (the other dance coach) and I have to wear masks the entire time and make sure the girls do when they aren't dancing," Webb said.
Reagan Carlson is a senior on the dance team.
"COVID makes a small difference on the dance team dealing with social distancing and the face masks," Carlson said.
There is also the challenge with making sure everybody gets checked in and accounted for.
"We have to give a questionnaire each morning to ensure each dancer and coach is feeling well before coming into practice," Webb said. "The possibility of dancers being quarantined at any moment is also a challenge."
Also, dance team tryouts consisted of performing the routine over Zoom.This resulted in many delays including lagging, music difference and the counts of the routines being off.
"Tryouts were definitely different than what I expected," freshman Faith Leonard said. "We had to learn the dance from videos instead of learning it in-person. I also had to try out with Zoom and the process was different."
Leave a Comment