Wrestling a new challenge
Fryar picks up a new sport
Hang on for a minute...we're trying to find some more stories you might like.
After he removes his prosthetic leg, sophomore Coby Fryar inches onto the wrestling mat.
"I go up to the [registration] table, and I take my leg off right there," Coby said. "Then, I'll crawl onto the mat and put my left foot up and my right knee down and go from there."
Coby was born with a congenital disorder called Fibular Hemimelia. In some cases, there is partial absence of the fibular bone, also known as the calf bone, but in Coby's case, it was a complete absence.
"His leg was much shorter than the other. [He] had a tiny foot with three toes," Coby's mother Delisa Fryar said. "When he was just one [year old], we chose to amputate his foot, leaving just the heel."
After the surgery, Coby was fitted for his prosthetic.
"He got his first prosthetic when he was 14 months old and learned to walk on it," Delisa said. "It's all he's ever known."
Last September, Coby had a second surgery to put staples in the growth plate of his femur in order to straighten his leg.
He spent six months recovering. Once he was rehabilitated, family and friends convinced Coby he should try out wrestling.
"My last principal, Mr. Bishop, and some family members told me that I'd be good at wrestling and [to] give it a try," Coby said.
Coby's parents were supportive of his decision to wrestle.
"We told him he'd be great at it, because he is strong and very agile on just one foot," Delisa said. "We also told him to not get discouraged [because] a lot of these kids have been wrestling since they were very young and he was just starting out."
This is Coby's first year of wrestling. Along with learning a new sport, he also had to learn how to wrestle without the use of his prosthetic.
"It's a challenge for me because I am not standing on both of my feet wrestling," Coby said.
According to Kansas State High School Activities Association, using a prosthetic limb during a wrestling match is not allowed.
"
We told him he'd be great at it, because he is strong and very agile on just one foot."
— Delisa Fryar
"I know the [prosthetic leg] becomes a safety issue for Coby and other wrestlers," activities director Jeff Staley said. "He wrestles without it for the safety of both parties involved."
Coby's initial competition was a new challenge for his competitor and himself.
"My first match was very tiring. Half the time, the guy going up against me didn't know what to do so he was backing up away from me," Coby said. "I didn't really have much experience because it was only three weeks into practice and the season, so I didn't really know a lot of moves. After [the match], I was completely exhausted and light-headed, but I've gotten a lot better since then."
While Delisa encourages Coby to pursue his goals in wrestling, she is still concerned about potential injuries.
"I was super nervous [for his first match], and I still get that way. Wrestling is one sport that is hard for me to watch," Delisa said. "I knew he'd be fine, but as his mom, I just don't want to watch him, or anyone, get hurt."
"It's a hard sport," Coby said. "You have to drill a lot and get muscle memory. If you lose, it's on yourself. If you are not in shape, then that's a really big disadvantage. You have to work hard all the time."
Coby feels he has to compensate by learning slightly modified moves.
"The most difficult part is definitely whenever they are on top of me and I can't bridge with both legs," Coby said. "That's pretty hard. There's just not really a whole lot you can do. You just have to hope that they make a mistake so you can take advantage of that."
Despite these obstacles, Coby continues to persist.
"Some people would see it as a disability, but not Coby," wrestling coach Scott Rieck said. "He does not allow anything to stop him from pursuing what interests him. He is a tough, strong kid with good balance who really enjoys the sport."
As his first wrestling season comes to a close, Coby prepares for next season.
"I'm going to wrestle all through high school," Coby said. "My dad is talking about me going with him to Crossfit every day during the offseason to get more explosive because that's something you really need [for wrestling]."
Throughout this season, Coby has received attention.
"
He does not allow anything to stop him from pursuing what interests him. He is a tough, strong kid with good balance who really enjoys the sport."
— Scott Rieck
"I'm proud of him," Staley said. "[Although] he hasn't been wrestling for very long, we talked about how good he can be in the next three years. He's enjoying it, and we're glad he's doing it."
Delisa is eager to see Coby continue his wrestling career.
"Quite a few people [have said] how great it is that he's wrestling, and they say how good he is for just starting this sport," Delisa said. "A lot of people are surprised that he is wrestling. I guess they think that since he only has one foot, he can't do it, but that has never stopped him. He impresses me every day. There's nothing he can't do."

About the Writer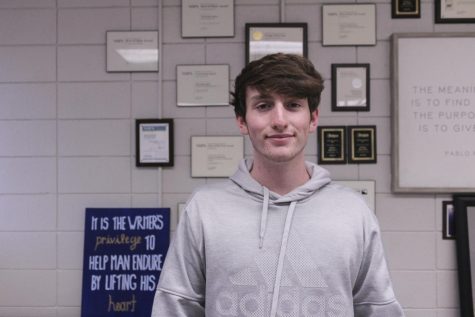 Matthew Moore, Managing Editor
Matthew is a sophomore at PHS and he is managing editor for the Booster Redux. He is also involved in yearbook, student council, and football. He is patriotic...