Spanish 1 Plays Review Game
What Happened: On September 23rd Señora Pallarés held a review game for her Spanish 1 students. The objective of the game was to toss a ball into a basket that had the correct article for the noun. There were four teams in the 2nd hour and five in the 4th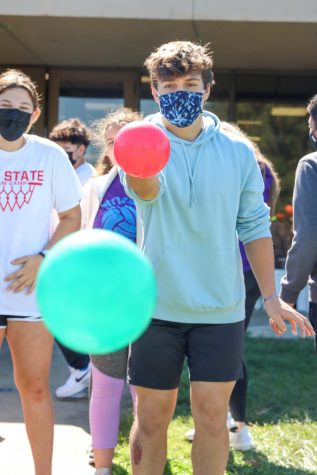 hour for the game. Señora Pallarés held this game for both of her Spanish 1 classes. Señora Pallarés had her classes play this review game so they could get a better understanding of the articles that go in front of the nouns the class was learning. In her 2nd hour team 3 came away with the victory. In her 4th hour team 5 came away with the victory.
Key Players/ Participants: All of her Spanish 1 students participated in the review game.
They Said It: "Probably being around friends honestly was fun," Freshman Josh Hamilton said. "Everyone was participating and being competitive."
Key Moment: "Definitely watching Nolan Turnbull and Josh Hamilton make some jump shots that are ridiculous and people just having fun and running around," Pallarés said.  "I was a hot mess with [the activity] for the first 5 minutes, it was pretty funny because I had no idea what I was doing."
What's next: Spanish 1 students will have a quiz over articles and nouns.