Curran sells signs for Alzheimer's Association
Science teacher Karen Curran is retiring from PHS following the 2021 school year. For her retirement, Curran wanted to pursue something that could show her creative and artistic side by making and selling her own signs.
"I've always been a little bit crafty. In the last year, [making signs] has been something I knew I wanted to put some time into," Curran said. "While my husband is in the shop building cabinets, I'll be down in the basement, making signs and painting. It is just fun to be creative and try to make things that make people happy."
Curran has started making signs for faculty and friends which has allowed her to practice her skills, though it may take hours.
"I am getting better at [making the signs] all the time," Curran said. "It is not something that gets done fast. I reclaim lumber from my husband's woodshop or leftover scraps that he has and we make the boards and frames. Then it gets a number of coats of paint and stencils to put the designs on them. All together from start to finish, it can take up to 4 hours for one sign."
For Curran, this job is more than just a side business; it is also a way for her to contribute to the Alzheimer's Association by donating half of the profit of each sign to the association for research. Curran named her new business the Blue Shoe which is a tribute to her late mother who died from Alzheimer's.
"My mom had these blue Keds tennis shoes that she wore," Curran said. " She was young in the depression and they didn't throw a lot of things away. They really tried to repurpose and get the most out of everything. When the Alzheimers had fully taken over her thoughts she had a brand new pair of these shoes underneath her bed, but she would always go back and reach for these ratty, old, hole in the toe, shoes and put those on because those were what were comfortable."
The signs usually cost between 15 and 25 dollars and to buy one you can contact Curran or go to the Facebook page The Blue Shoe to place an order. Half of the proceeds from these orders will go to furthering Alzheimer's research, which is something Curran strives to help.
"I don't intend on getting rich off this by any means," Curran said. "It is just something to do and it is a very worthy cause to make donations to. Since December I have been able to make 150 dollars to donate to the Alzheimer's Association. I am just thrilled to death that they will be added to a donation that I make personally."
About the Contributor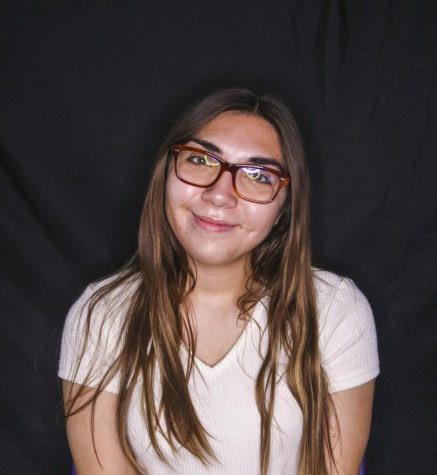 Sarah Alcantar





Sarah is a senior and has been on staff since she was a freshman. She is involved in soccer, FCA, HOSA, Key Club, Book Club, Debate, Spanish...