Native speakers better understanding the language through Spanish class
As sophomore David Vail walks the halls at PHS, he struggles to read club flyers and communicate with peers. When he walks into his Spanish class, he is able to take a breath and understand the environment around him. Vial is a native Spanish speaker from Guatemala who is enrolled in Spanish III.
"I think [it is] beneficial for ESOL students and newcomers [to take Spanish] because they feel comfortable and understand what is going on in the classroom," Spanish teacher Angela Pallarés said.
Before teaching Spanish, Alejandra Challa De Rojas was just like a native student; she didn't know all the Spanish grammar. She studied Spanish at the University of Nevada in Reno. Rojas said she didn't feel educated enough to teach Spanish until taking college courses gave her a new perspective of the Spanish language.
"I realized that we use the language without thinking of all the structure the language has," Rojas said.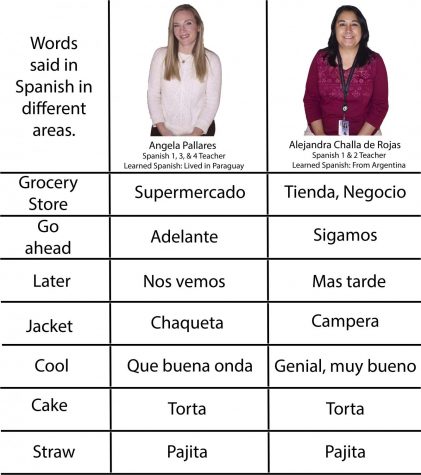 During Spanish class, students learn how to read, write and speak the language. The native students mostly do well in listening and speaking, but, according to ESOL teacher Lijun Zhu, native students who say they can speak Spanish sometimes are not proficient in other areas of the language.
"Some students say that they can speak Spanish but in reading and writing they still struggle," Zhu said.
According to Vail, he is a native speaker and he still struggles with learning Spanish. Sophomore Adolfo Arciniega struggles with spelling. 
Freshman Kleyder Paxtor said he believes he can advance in Spanish classes.
"It kind of gets annoying when we learn stuff that I already know," Paxtor said. "I feel like I could go further."
According to Pallarés, native speakers are inclined to do better in Spanish because they are already familiar with the vocabulary, but that it is not an easy grade. Zhu said she disagrees because native speakers do not have an advantage over non-native speakers in the Spanish classes.
"For all the students, it doesn't matter if they are native English speakers or Spanish speakers," Zhu said. "I think as long as they're taking a second language, the benefits are about the same."
Most native students at PHS were taught to speak Spanish for most of their childhood. Paxtor learned Spanish from a young age and uses Spanish and English to communicate with his siblings and parents. 
"I speak English when I'm with my little brothers since they don't speak that much Spanish," Paxtor said. "I speak Spanish when I am around my parents because they don't understand English."
Paxtor hopes that taking Spanish can help him speak it, so that if he went to visit family in a Spanish-speaking country, he would be more confident to speak the language. 
"I thought [speaking] Spanish could help me write more fluently and be able to read," Paxtor said. "If I were to decide to go to Guatemala, I could [be prepared]."
Rojas, Pallarés and Zhu believe that it is time for PHS to introduce a new Spanish class just for native speakers.
"I think we are getting to the point we would need a class for native speakers," Rojas said. "I think it would be very beneficial because we could work with, for example, the English department and focus on helping the students know how to translate or improve English by practicing both languages at the same time."