Library's most-read genre has extensive collection
Story by AJ Ortiz, Reporter
September 16, 2019
Hang on for a minute...we're trying to find some more stories you might like.
The library has a little known collection, and it's one that many readers find themselves engrossed in. That collection is manga. Manga is similar to comic books in nature and contains a lot of different subgenres as well.
The library has a collection of manga, one that librarian Samantha Warren has to manage frequently.
"It is right as soon as you walk in the door, and there's a reason for that," Warren said. "Because it is my most highly circulated collection. It is the most checked out genre in the entire library."
Senior Sapphire Blakemore is a manga reader.
"Whenever I was in my freshman and sophomore year, I read a bunch of manga all the time and they seem to have a really wide variety," Blakemore said. "I'm really happy about that."
While the collection has room to grow, there's still a lot of choices, as freshman Jonathan Spear points out. "There's a lot of interesting stuff in there," Spear said. "I was thinking of starting to read Full Metal Alchemist. I think they have a pretty good collection of it." Jonathan is also hopeful for new readers and says, "If you like comic books, and you like anime, you should check this out."

About the Contributor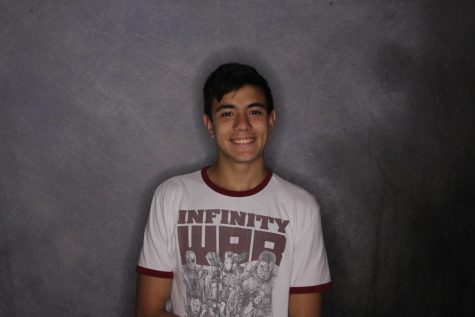 AJ Ortiz, Reporter
This is senior AJ Ortiz's first year in newspaper, he decided to join after taking Intro to Journalism. Despite joining the program as a senior, he is...