Super Bowl LV
This will be one of the most exciting super bowls of all time. 43 year old Tom Brady against 25 year old Patrick Mahomes, G.O.A.T. versus the face of the NFL. When facing each other it has always been a shootout and has resulted in one score games. Some are even comparing it to if Jordan met Lebron in a finals matchup. Can Mahomes dethrone the amazing Tom Brady and pave his way into the Hall of Fame, or will Tom Brady be solidified as the G.O.A.T, making it impossible for anyone to do what he has done?
Kansas City Chiefs
The 25 year old Patrick Mahomes has taken over the NFL in just three seasons as a starter, he is debatably the best QB in the NFL right now. Mahomes has already won an MVP award, Super Bowl MVP, and is also the fastest player ever to reach 100 TDs. Mahomes has led the chiefs to two super bowls, and with the weapons of Tyreek Hill, Travis Kelce, Clyde Edwards-Helaire, Sammy Watkins, and Mecole Hardman, he is looking for another win.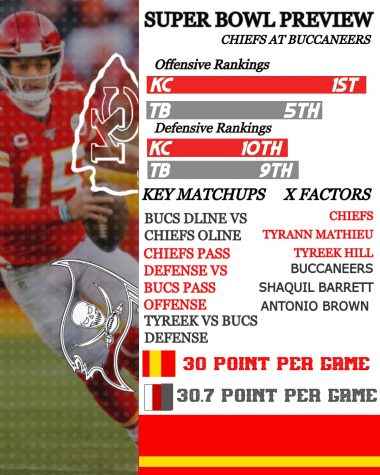 Chiefs secured some new assets in this year's draft. Clyde Edwards-Helaire, who was a first round pick, has been amazing in the rushing game as well as the passing game, and is a perfect fit with Le'veon Bell in the backfield. Second round pick Willie Gay Jr.will miss the superbowl, with a meniscus injury, which could be bad for the linebacker core because he was the speedster linebacker. Kendall Fuller was let go in the offseason so the Chiefs needed a replacement and they found exactly that in the fourth round with defensive back L'Jarius Sneed.
The Chiefs finished 14-2, which put them in first place in the AFC. Mahomes threw for 4,740 yds(2nd), 36 TD(4th), 6 INT, and a 108.2 passer rating(3rd). Rookie running back Clyde Edwards-Helaire rushed for 803 yds(19th), 4 TDs(42nd), 0 fumbles, and averaged 4.4 yards a carry(27th). Chiefs receiving leader, Travis Kelce, was record breaking, breaking the single season receiving yards record with 1,416 yds(2nd). Safety Daniel Sorenson is the tackle leader for the chiefs with 91 total tackles(50th). Tyrann Mathieu led the team with six interceptions(3rd) and nine passes deflected(39th). Chris Jones led the team with 7.5 sacks(26th) and Defensive End Frank Clark led with eight tackles for loss(73rd). The Kansas City offense looks explosive on paper and on the stat sheet, so expect a high offensive game. The defense isn't the best on the stat sheet, but Jones, Clark, and Mathieu are big time players that will definitely make big time plays.
Key Matchups
Chiefs secondary vs. Buccaneers weapons:
Antonio Brown, Gronk, Mike Evans, and Chris Godwin are all amazing receivers especially with Brady throwing to them. I would expect Bashaud Breeland to press Mike Evans or Godwin to slow them down, and Honey Badger, Sorensen, and linebackers will switch out on Gronk. Also, Ronald Jones II might cause problems in the backfield, he is an elite pass catcher from the backfield that needs to be contained. The Chiefs will run lots of disguise to try and trick Brady which may or may not prove to be effective. 
X Factors:
Chris Jones and Frank Clark vs. Buccaneers Offensive Line:
Chris Jones will need to pressure Brady as much as possible to beat the Bucs, therefore he will most likely be used on the edge a lot more than usual. Frank Clark is dominant off the edge, especially in playoffs time, I wouldn't be surprised if he has the game sealing sack, but the amount of pressures he has will have a great impact on the game.
Tyreek Hill vs. Bucs Secondary:
We have already seen what Tyreek can do against the young buccaneers defensive backfield, especially now with their two starting safeties out. If Tyreek can break the defense then that will help the chiefs secure the win. 
Travis Kelce is Mahomes go to man, so expect him to have a big game. With Lavonte David injured, Kelce's production across the middle and against linebackers will increase so much more.
Super Bowl 55 will be one to remember. Two stellar quarterbacks, top two receiving corps, all in one very different season. `