PHS alumni donates annual golf tournament funds to GBL club
On Sept. 25, Get Busy Livin' (GBL) club sponsor Abbey Cummings received a phone call from alum Jamey Sukraw. They arranged a meeting at Countryside Golf Course. During the meeting, he handed her an envelope containing a $1,180 donation. 
Sukraw organizes an annual golf tournament to raise funds for donation.
After playing for the first five years with friends, Sukraw decided he wanted to support a cause. He spoke with Cummings and learned about GBL, and later decided to donate to the club.
"It started in 2013 as just a group of buddies," Sukraw said. "We got together and decided we were going to have a golf tournament. We played a few formats and just made it a fun weekend." 
"
I was just flooded with gratitude that people would want to help."
— GBL sponsor Abbey Cummings
Then in 2018, Sukraw began charging players a $20 entry fee to participate in the tournament with an option to contribute a donation.
"The Meier family was very close to a lot of the people who played [in the golf tournament]," Sukraw said. "[GBL members are] not looking for somebody to pat them on the back or tell them good job, they just want to help somebody because it's the right thing to do."
Sukraw requested that the donation be used to help students in need. Cumming's first action when she got back in her car was emailing Susan Russian, the school's social worker, and informing her of the donation. She also asked for input on how to spend the money.
"I was just flooded with gratitude that people would want to help," Cummings said. "[The golfers] don't even really know anybody that goes to school here, but just the idea of Dragons helping Dragons, that is something that Dylan would have done, too."
The club will be using this donation to take a shopping trip to purchase non-perishable food items, sweatpants and other warm clothing items.
A portion of the money will also be reserved in order to help specific students in need—paying a bill, providing meals, or anything else to get students and families on their feet.
About the Writer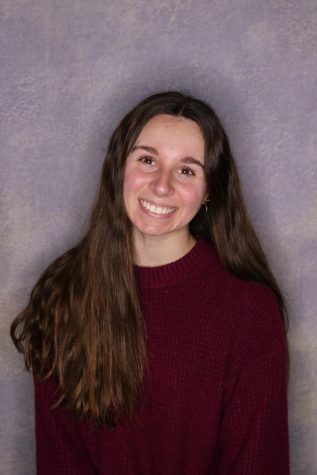 Elle Burgess, Reporter, Designer
Elle has been on the newspaper staff for four years now. She loves to design and expand her creativity and skill set. Elle is also involved in Student...