A inside look at district transportation
December 4, 2019
Around the country, there are parked school buses with a sign that reads: "Bus drivers wanted."
According to Forbes, there is currently a bus driver shortage across the nation. However, in District 250, that is not the case.
Though there is not a shortage now, with the continued growth of sports and more field trips, a bus driver shortage could occur.
"Instead of it being a shortage, it's more of a logistics resource allocation requirement," Chief Operations Officer Tom Stegman said. "That's kind of where we are in our district. We are trying to make sure that we provide as many opportunities for kids as we can but we may have to really start thinking and problem-solving."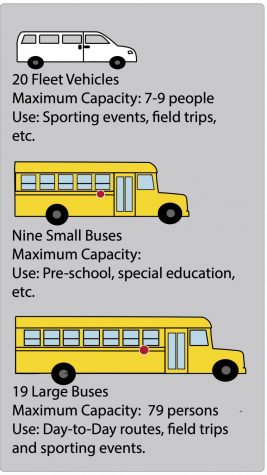 Currently, the district has more bus drivers than buses. Currently, there are 35 drivers and 19 large buses and nine small buses. A large bus legal capacity is 77 people and each small bus is from nine to 30 people.
A recent survey from School Bus Fleet magazine found that more than 90 percent of responding school districts had some kind of driver shortage. Nearly a third report it as severe or desperate.
"So let's think of fall. You have soccer for boys. Volleyball going out. You have JV football. Cross Country, that's just the high school. Middle school cross country, middle school volleyball, middle school football. Now you've got girls golf, girls tennis. That's just a middle school. That's not counting any other field trip activities," Stegman said. "It's not really a shortage of people who can drive. It's not even just because you have this amount of buses. It's about there's these are all the activities you have for this day."
"If you look right now [there are] articles on bus driver shortages. The problem is, with where we are it's not really a shortage of buses, [or] a shortage of drivers," Stegman said. "[There are times when the buses break down.] Sometimes [drivers] are sick, or they've taken off. They're human. So we may be short a bus driver. On a day-to-day basis, we have a set of drivers then we have subs, but those people still need to work. I can't just keep them hanging."
The district is trying to prevent a shortage. To combat this, the district is adding more substitute bus drivers and focusing on an enjoyable work environment.
"One thing we try to do is build a culture where you want to be there. If you enjoy your work environment, you enjoy what you're doing, and you love kids, I want those people to stay. We want to keep those people but we also may need more," Stegman said. "Those people are also great trainers. They help model and create great bus drivers."