Konopelko named Kansas Student Journalist of the Year
Story by Joy Lee , Designer
March 8, 2019
Senior Nicole Konopelko received a call on the morning of Feb. 24 from Eric Thomas, the executive director of the Kansas Scholastic Press Association, that she was named the Kansas Student Journalist of the Year.
"I had been waiting for a few weeks to find out about how my portfolio did and whether I had won the contest or not," Konopelko said. "I had a lot of anxiety about it and when Eric called, my hands were shaking and I was in such excitement. I was so honored to hear that my storytelling had been recognized at one of the highest levels of student journalism. It was the culmination of so many tears and so many rewrites to get to the truth and I was so beyond excited."
For the last month, Konopelko has been compiling a portfolio, which entailed work such as writing, multimedia broadcast, entrepreneurship and news gathering, for the KSPA Student Journalist of the Year (JOY) contest. This is a goal she has been working toward for the past three years.
"I realized I had a shot at being the Student Journalist of the Year my sophomore year," Konopelko said. "By that time, I had decided to expand my skill set. I started learning how to shoot video and how to design pages. Junior year was when I started making a portfolio."
"
It was the culmination of so many tears and so many rewrites to get to the truth and I was so beyond excited."
— Nicole Konopelko
Since then, Konopelko has been doing journalism for The Booster Redux, her high school print and online publication. She has traveled coast to coast to summer journalism camps to expand her skill set, from the New England Center for Investigative Reporting Summer Workshop in Boston to the California Scholastic Press Association Workshop, where she connected with other journalists like herself.
Konopelko's high school journalism adviser, Emily Smith, has been a guide and support for Konopelko throughout her four years in high school.
"Nicole is a natural storyteller and has a passion for people," Smith said. "Her dedication and curiosity has led to her cultivating a multitude of skills and she utilizes all mediums to do a story justice. I'm so proud of how hard she has worked and what she has accomplished. She embodies all ideal qualities of a journalist and I can't wait to see what she accomplishes next."
For the past few years, Thomas has seen Konopelko grow as a journalist. Thomas said Konopelko's work inspires him.
"I think that student journalism is just extraordinary and the amount of excellent kids like Nicole that are out there is really inspirational," Thomas said. "I think we look a lot at athletes and we look a lot at actors and we look a lot at singers and people in the performing arts and we think, 'How are these young people able to do that?' I hope that people in the community and people outside the community are able to say, 'Oh my gosh, look at this student journalist right here. She is doing professional caliber work.'"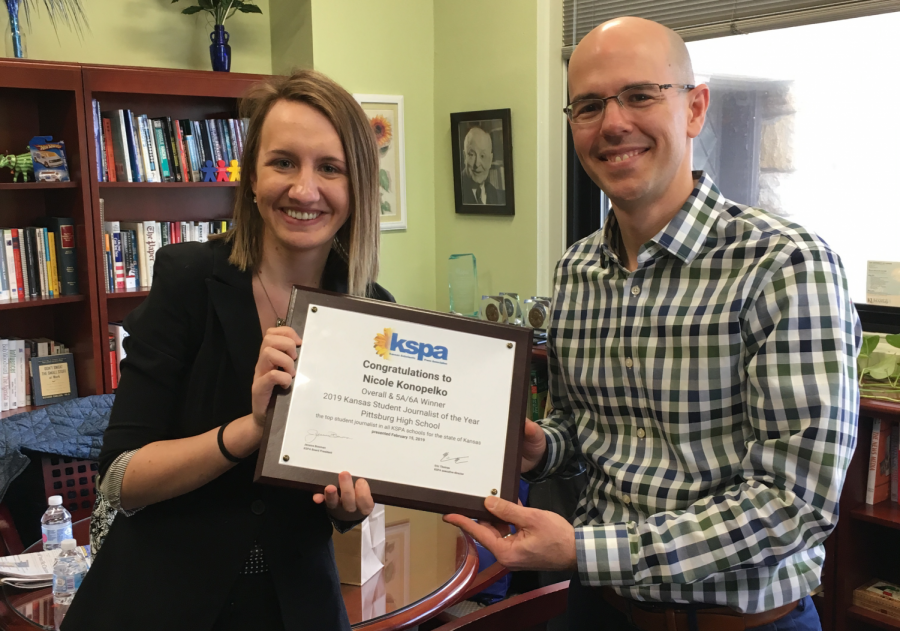 At the state level, judges looked at entries from nine student journalists, with work ranging from writing to entrepreneurship. Konopelko's portfolio unanimously stood out among the nine.
"The judges saw a student who took on really really tough subjects and was willing to do really dogged reporting on those subjects," Thomas said. "[She] was willing to take stories that weren't necessarily fun but were going to take a lot of digging and dive into those kinds of stories. I think they saw a journalist, too, who had challenged herself to do a lot outside of the high school journalism classroom."
Konopelko plans on attending The University of Kansas in the fall on a full-ride scholarship and will continue to do journalism on the staff of the university's newspaper, The Daily Kansan.
She will submit her portfolio to the National Scholastic Press Association to be judged nationwide and will receive news of how it places by April.
"The people who have won JOY are just unbelievable and to know that I am stepping in their footsteps and doing the same thing that they accomplished, really not only makes me happy, but it also just shows that what I'm doing is right," Konopelko said. "It shows that I am a good journalist and I can do good work. I have potential in the career and I'm going to run with it regardless of what anyone says."