District hires Heardt as new principal, begins replacement process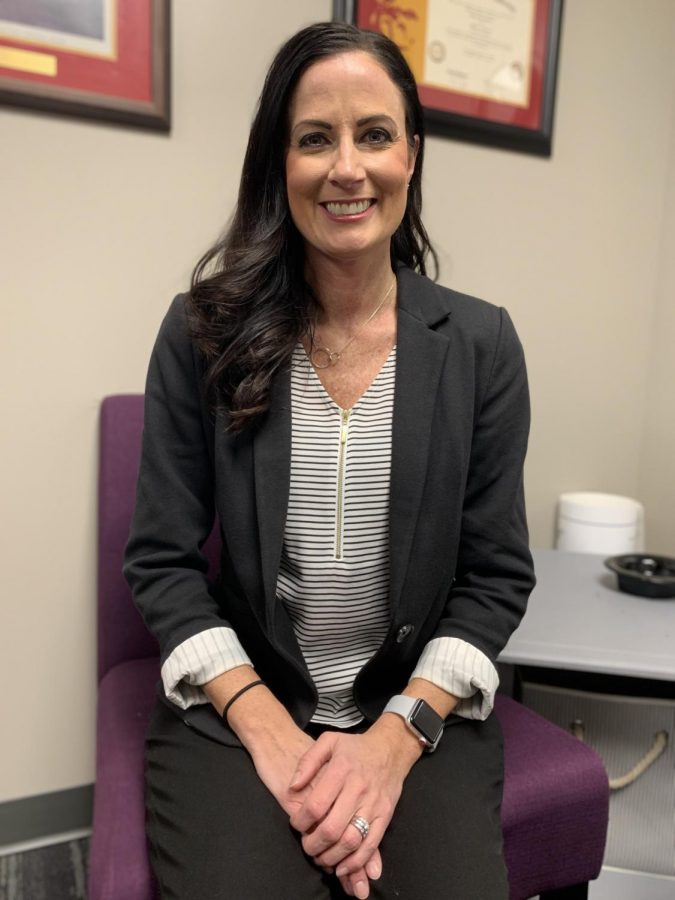 Starting in July, current assistant principal Kelynn Heardt will take over as the head principal of Pittsburg High School.
The USD 250 Board of Education approved Heardt's hiring in its regularly scheduled board meeting on March 4. Heardt will replace principal Phil Bressler, who resigned in early January to seek a superintendent position.
"I think everybody has goals and a timeline and I thought this move would come a little bit later in my career because I still have over a decade before I can retire, but I learned a long time ago that my timing isn't always necessarily God's timing, I'll be honest," Heardt said. "[Pittsburg] is my home. It is my place and my community. This is a big step, but I'm excited for the opportunity and super thankful."
Born and raised in Pittsburg, Heardt completed her primary and secondary education at Pittsburg Community Schools. She obtained a bachelor's degree in communication with a teaching minor in 2000, and a master's degree in educational leadership in 2014, both from Pittsburg State University (PSU).
Heardt has been working as an assistant principal at the high school since 2016. She previously taught and coached for three years at Frontenac High School and for 12 years at Baxter Springs High School.
"Walking into this school and seeing things I got to be a part of, there was a connection that's just kind of unexplainable to this place: just such fond memories of growing up here — the teachers that I had, the opportunities that I had," Heardt said. "Even back in the 90s, this district was always in the best place that it could possibly be."
According to superintendent Richard Proffitt, Heardt was unanimously selected out of a pool of 12 applicants. She interviewed in front of community, staff and administrative panels.
"
[Pittsburg] is my home. It is my place and my community. This is a big step, but I'm excited for the opportunity and super thankful."
— Kelynn Heardt
"She was up against some good competition — licensed administrators at varying experiences and quality candidates," Proffitt said. "For her to rise to the top of that and show herself to be the best candidate is really a credit to her. We're comfortable with her and we're excited about it."
Proffitt said one of the reasons Heardt stood out among the rest of the qualified applicants is her current experience at the high school.
"Not only does she have the skills and personal training to be successful, but it's also nice because she has been in the building now for three years," Proffitt said. "She knows the staff, she knows the culture and she knows a lot of the things we've been doing here. It kind of helps give her a leg up and hit the ground running so to speak. I'm looking forward to working with her in a new capacity."
Heardt said she has already started preparing and setting goals for her new position.
"I would say my number one goal is that everybody who is connected understands who we are and supports who we are and supports each other in that," Heardt said. "[The high school is] just a big place with a lot of moving parts that you get wrapped up in your program or your event or whatever the case may be. Finding a way to connect and bring that unity and consistency to our building so it is that family feel is so important to me."
In addition to pushing a family feel in the school, Heardt plans on evaluating implemented policies and finding ways of improving them.
"Doing a really good inventory of some of those things is important and really getting rid of all the extras that are unnecessary," Heardt said. "Just doing a really good initiative of things that we've started and haven't seen all the way through and building a team of teacher leaders to help evaluate those things onsight is a definite goal of mine."
Heardt is excited to begin her new job in July.
"I've walked the halls here as a student, then as a beginning coach, then as a visiting coach from the outside looking in," Heardt said. "Now, back in a leadership role has just been definitely fulfilling."
THE SEARCH FOR A NEW ASSISTANT PRINCIPAL
The district is now in its beginning stages of finding a candidate to take Heardt's assistant principal position next year.
According to Proffitt, Heardt will be running the search process to find her replacement.
"I very well could step in and say, 'Hey, since you're not officially in the job yet, I'm going to help run this,' but I'm not the one that is going to be [Heardt's] direct supervisor," Proffitt said. "I'm their indirect supervisor. The person who has direct supervision over the teachers is going to be the administrator in this building. If that's the case, I don't want them to have to live with my decision. They have to live with their decision."
"
Not only does she have the skills and personal training to be successful, but it's also nice because she has been in the building now for three years."
— Richard Proffitt
The job application flyer was posted on TalentEd, the district's hiring website today. Proffitt said he envisions a three week window for applications to come in and a week-long interviewing process.
Though the date isn't set in stone, Proffitt hopes to bring a hiring recommendation for the school board members to review during their regular scheduled meeting on April 8.
"She's going to be interviewing the candidates with teams — what that looks like, the process, I want her to think through that. Not that I won't have influence on it, but she's kind of been through a process so that sets a pattern," Proffitt said. "I'm assuming it'll follow somewhat of the same pattern [as the principal search], but will there be different people involved? Possibly. Can the structure of it be a little bit different? Possibly. That's all to what she really wants to do and she'll work with the other administrators here and other staff members to determine what that looks like."
At this time, the search process itself has not yet been established and a timeline has not yet been released to the public.
Your donation will support the student journalists of Pittsburg High School - KS. Your contribution will allow us to purchase equipment and cover our annual website hosting costs.