Riachi reaches semifinal round of National Merit Scholarship competition
Hang on for a minute...we're trying to find some more stories you might like.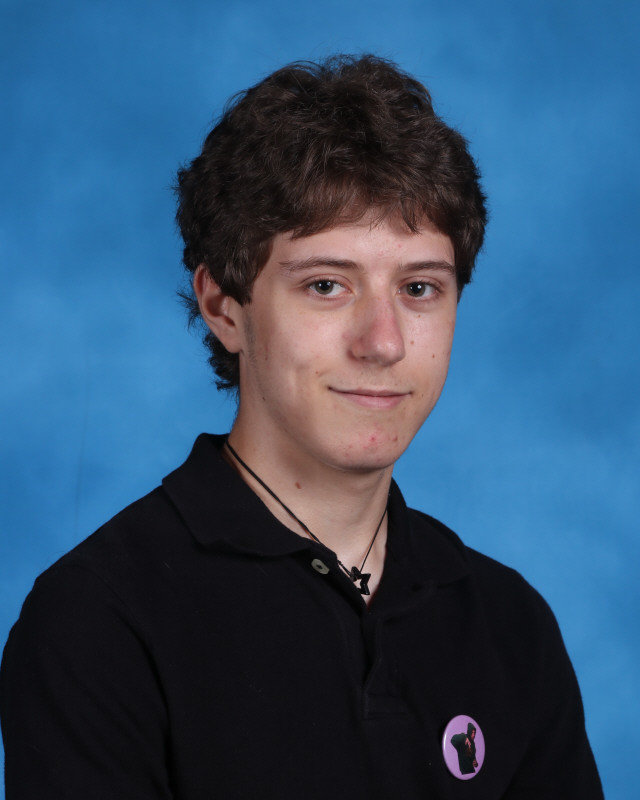 During lunch B, principal Phil Bressler walked into the Commons, took a microphone and stepped in front of the student body — Senior Andrew Riachi was selected as a National Merit Scholarship semifinalist, he said.
Bressler has only known four students to reach the semifinal stage throughout all of his years of being in education, according to USD 250's press release.
"I treat this the same as a state championship," Bressler said, in the release. "It's something very special."
Although the first step in qualifying for the scholarship is to score in the top one percent of the state on the PSAT, there are also several other things that factor in receiving the scholarship, such as, difficulty level, depth and breadth of subjects studied; grades earned, accomplishments inside and outside of the classroom, evidence of leadership, two sets of test scores; PSAT & SAT, student's essay and the high school's recommendation.
Administration planned the recognition. They made sure that Riachi was going to sit in the commons with his friends to eat lunch, rather than in the technology room (where he usually ate) and Chuck Boyles set up the sound system earlier in the day.
"None of those events seemed connected, and I thought that was kind of 'extra,'" Riachi said.
According to the National Merit Scholarship Corporation's official website (NMSC) the mission statement is to recognize and honor the academically talented students of the United States. NMSC accomplishes its mission by conducting nationwide academic scholarship programs. The NMSC gives out the scholarships, and selected Riachi as a semifinalist.
Former PHS math teacher, Rhonda Willis, says she thinks highly of Riachi, whom she had as a student for honors geometry, honors algebra 2 and precalculus.
"What stood out about him was, he was never one who was satisfied with just completing an assignment for the purpose of getting points," Willis said. "He always wanted to be sure that he understood what was going on, and he was more than comfortable questioning something if he wasn't sure why an answer was what it was and did it in a kind, respectful way."
Riachi is one of four students in the last 10 years, in PHS history, to qualify for this scholarship, including; Nina Mathew (2008 qualifier (Q), 2009 recipient (R)), Joseph Mathew (2014 Q, 2015 R), Amanda Hoffman (2015 Q, 2016 R).
"Well, my reaction was obviously positive, and I guess not 'overjoyed' except for the fact that I have more opportunities to get my school paid for," Riachi said. "As for finalists, having the opportunity to do that, [is] pretty cool, and I am very happy with this recognition."
Willis said that Riachi has always been a naturally driven student and has always wanted to be successful. And although Riachi is academically driven, he is just like any other student, in that he has puts a lot of pressure on himself.
"Honestly, [the thing that motivates me] might be [my] passion for learning. I like to learn," Riachi said. "I've been trying to tone [the pressure I put on myself] back lately. I've had some points where I put a lot of pressure on myself, and I find when I do that, I don't enjoy learning as much."
"
… having the opportunity to do that, [is] pretty cool, and I am very happy with this recognition."
— Andrew Riachi
Willis said she looks forward to watching Andrew to seeing what life has to offer him for all of the hard work he has put in.
"I have had lots of students who are smart, but not all of them end up being finalists for this merit scholarship, so what makes him stand out is he's not satisfied with just being smart. Being smart is just the potential to learn. It doesn't mean you already know everything. Andrew has always been one that knows he is intelligent and he's confident in that, but, he also knows he has a lot to learn. And so he's willing to work hard to educate himself and to make sure that he puts a lot of information into that highly intelligent brain of his."
Riachi has already taken the SAT for the final round of scoring to receive the scholarship.
"I took some free practice tests online. [The] other thing about the SAT, [is] I wasn't as anxious about it because I had taken two PSATs so I kind of knew the format and what to expect from the college board so that made it a little bit less nerve racking," Riachi said.
Riachi is also involved in FIRST robotics, technology student association and music and instrumental programs. He has received rewards for math competitions as well as recognition of being in the Kansas State Honor Choir.
"Really, I take more pride in what I figure out on my own," Riachi said. "Like when I solve a certain problem or when I learn a new technology."
Willis said she is proud of Riachi.
"I want to tell him congratulations. It's a well-deserved honor. I don't think it's over for him yet and I am excited to see where he ends up going to school, what he ends up doing and all of the things that life offers him for all of the hard work he has put in."