Math dept. to revise course offerings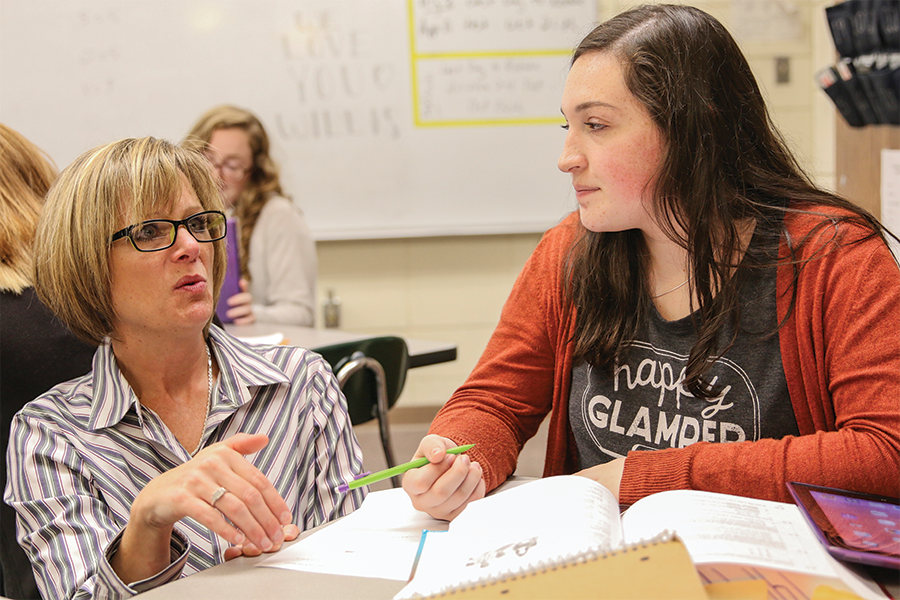 Story by Maddie Baden, Editor in Chief
May 5, 2018
For the past seven years, eighth graders have had the opportunity to test out of algebra I and take honors geometry their freshman year. For the 2018-2019 school year, all freshmen will take algebra I, and honors geometry will no longer be offered to students.
In the past years, eighth graders were taught algebra I, according to high school math teacher Gary Ausemus.
"At the middle school this year they are no longer teaching algebra I," Ausemus said. "They are taking eighth grade math right now, there is no algebra, so it would be difficult to take geometry then algebra II."
Students with varying ability will be combined in classes, and the question as to whether upper level students will become uninterested arises.
"There is always a concern about students getting bored in any classroom with content they pick up quicker than others," math teacher Trevor Elliott said. "That is where differentiation of instruction comes in. The extension activities with the curriculum, College Preparatory Math, can be used for those students."
After students complete algebra I they will move on to a non-honors geometry class, then algebra II. It is still undecided if honors algebra II will be offered in the future, according to Elliott and Ausemus.
For senior Seth Hoffman, who took the honors math pathway, not having an honors program would have left him unchallenged.
"The honors math program was beneficial to me. I learned more without spending too much time on a topic," Hoffman said. "I would have felt I wasn't learning enough. If I would have felt it was easy, I wouldn't have tried to improve myself in math."
"
The honors math program was beneficial to me."
— Seth Hoffman
Senior Taylor Redd met standards to enroll in honors geometry, but decided to take algebra I anyway. She still felt she was challenged in the course, although feels having a mixture of levels would not have helped.
"I would not like having a combined math class. It would be hard for the teacher to balance their teaching pace and styles with the variety of kids," Redd said. "It may be beneficial with non-honor students getting help from honors students, but overall, I don't think it would be beneficial."
Ausemus, however, sees how combining the different levels will benefit the classroom environment.
"With working in teams, the different levels will help the class, because different viewpoints are shared," Ausemus said. "But, later on, when students try to get to calculus, they will have to double up taking algebra II and geometry at the same time."
Current eighth grader Abby Painter was planning on enrolling in honors geometry so she could pursue upper level math classes. She is now unsure whether she will get the chance to reach them.
"Taking two math classes at one time will be difficult to keep up with. I won't have room in my schedule for the rest of the classes I would like to take," Painter said. "The change will not be beneficial because students are at different levels in their learning and are ready for different things."
According to Ausemus, there is a possibility gifted students who are on an Individual Education Plan can test out and take geometry, but it is currently undecided and all freshmen will be enrolled in algebra I.
"This change is out of our hands because we are tied to what students come in with, and this is what the state level is recommending now," Ausemus said. "If students have not even been exposed to algebra I standards, it is hard to move on to the next level."