Assuring safety
Administration, students reflect on recent threat
Story by Kali Poenitske, Editor in Chief
April 5, 2018
On March 6 a threat was found in a textbook and brought to the administration's attention by two students. Local law enforcement agencies were immediately contacted by administration.
"Everything that comes to us as a threat gets investigated," principal Phil Bressler said. "We had Crawford County Sheriff's Department and Pittsburg Police Department involved. They know more about this investigation and what they're looking for."
Instead of cancelling school for March 7, administration and law enforcement officials increased security.
"You have to be very judicious to call school off for this. We don't want [threats] to become a habit," Bressler said. "We do everything we can, and that's why we involve law enforcement as soon as we know."
After the threat was investigated, it was not found credible, and no arrests were made at this time.
"[Law enforcement] went to the house, investigated it, took the weapons out and secured them," school resource officer Jessica Franklin said. "There weren't any charges filed against the kid because it wasn't credible. The kid was administratively put on leave for a few days. It was taken care of."
Students and staff were still required to enter through the main doors on March 7 to have their bags checked.
"If we thought the precautions we took Wednesday wouldn't have guaranteed students' safety, we wouldn't have had school," Bressler said. "I felt like there was enough of a police presence, and [checking bags] eased their minds knowing every kid coming into the building was going to be searched."
COMMUNICATION
When the threat was initially found and considered credible, notifications were sent out to parents, teachers and students. However, not all of the alerts were delivered.
"Students and staff got an email. Parents got a phone call that night," Bressler said. "Our notification network was down that day, so staff got nothing more than an email. We're working on shifting our notification system away from that product because it has proven faulty when we needed it the most. We are going to shift to a different system to guarantee that the information is being distributed. If two people don't get it, that happens, but when a whole group of people don't get it, that's concerning to me."
Along with the phone calls and emails sent out Tuesday evening, an alert was posted on social media.
"I learned of the threat from an internet post by The Morning Sun. A couple hours later USD 250 posted on Facebook about it," USD 250 parent Dionne Blakemore said.
"
If two people don't get it, that happens, but when a whole group of people don't get it, that's concerning to me."
— Phil Bressler
It wasn't until parents commented on the Facebook post that the district realized not everyone received the notifications.
"The district responded that [a message] had been sent, and, if you hadn't received one, it could be because your information was not updated with the school," Blakemore said. "I was perturbed at this point because I didn't feel enough had been done to inform parents. I received a call that evening regarding one of my children's lunch accounts, which I already paid the day before, so I knew my information was current. I replied on Facebook and my robo call came shortly afterward. I was glad someone at the district level was paying attention and got us the information."
Junior Tayten Kelsey received an email with news of the bag checks happening the following morning, but he wanted more information.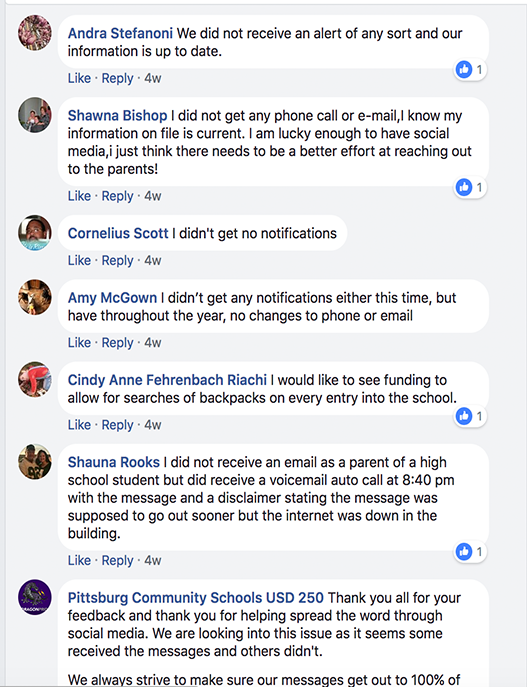 "I got the same email most of the student body did, but we still don't really know what happened. We're kept in the dark which is an issue. Whatever they know, we should know as long as it is legal," Kelsey said. "A lot of students didn't come the day our bags were checked because they and their families didn't feel safe. Later on I found out they already had suspects, narrowed it down and already had cops outside their houses. If we would have known that, I feel like more students would have been comfortable with coming to school."
Another conflict with communication was a language barrier. At the high school, there are 83 families who reported that English is not their first language. Though the phone calls and emails were sent out in English, the posts on social media can be translated to Spanish.
"I know a girl who really had to search to find [the information] in Spanish. Even though it is a small percentage of our population, it's still a percentage," Pallarés said. "That was on the website, not the phone call. I know it's tricky, but it's important they know what is going on."
SAFETY
Evacuation is the fifth step in the ALICE procedure, but some students are worried the gathering spot is not effective.
"Our biggest procedure right now is ALICE. We leave the school to go to the church," Kelsey said. "It's not really very beneficial. Most school shootings come from students, and obviously everyone here knows exactly where we'd be going and how we would react. One way we could change that is not having a central location to meet at because we're just moving from one killing zone to another."
"
We're kept in the dark which is an issue…"
— Tayten Kelsey
Pallarés has heard concerns about the safety of the recognizable meeting place.
"I know people are afraid of the fact our gathering spot is so known," Pallarés said. "I don't know how you would change that because the whole student body needs to know."
USD 250 parents like Jennifer Fullhart are satisfied with the security methods but have suggestions to improve the system.
"My thoughts on the current safety procedures are, while we have good things in place, we need to change some," Fullhart said. "We need to stop notifying students and staff of when ALICE drills are going to be. Some students don't take it as serious when they know it is just a drill."
Kelsey agrees there could be other steps taken in order to ensure students' safety.
"Last year we didn't do as many drills as I would like. We should have more than two a year, especially with how often it's happening," Kelsey said. "We've had 13 [school shootings] this year already, and our school could be next. We can't predict the future. The best thing to do is prepare."
Along with more drills, Franklin has mentioned implementing safety precautions more regularly.
"I have put a bug in [administration's] ear about x-ray machines and metal detectors because it would be nice to have on a daily basis," Franklin said. "Do I want that to happen? No, but unfortunately with the way things have been going, I think that's going to [be a reality]."
USD 250 parent Cindy Riachi believes there should be funding set aside specifically to advance school security.
"USD 250 is doing the best they can at this time," Riachi said. "I would like to see money put aside for additional security such as metal detectors, guard at the main entrances or limited entry into the schools."
If money were not an issue, Pallarés would like to see more elaborate measures of safety.
"A student showed me a video of this school that had all circuit cameras attached to the police station. They could see what was going on in the school at all times. There was a button where [teachers] could call the police. You would push up if you're okay and down if you're in danger. It was a switch in every classroom," Pallarés said. " I think the first line of security would be metal detectors at the doors and then getting a closed circuit with the police station. We have talked many times about getting kits in the room. That would be helpful because I don't know how to break out a window. We've talked about these several times but never got them. I didn't know if it was something I should buy or if it's something provided."
After meeting with students and faculty, Bressler said the administrative team is working on solutions to better communication and safety procedures.
"We're not perfect," Bressler said, "but we're going to make strides to get better."