'Urinetown' is statebound
Musical selected for state festival performance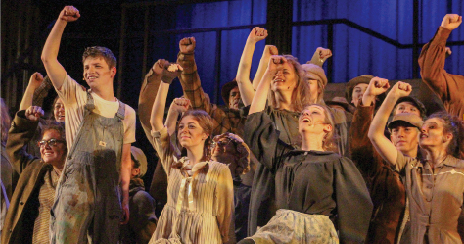 On Jan. 4, the music repertory class will be performing "Urinetown" in front of an audience of 1,800 thespians on opening night of the Kansas Thespian Festival.
When sophomore Addy Campbell heard the news, she was filled with excitement.
"I actually kind of flipped out. I almost started crying a little bit," Campbell said. "It's really great. For me, opening night is the show that is going to give you the punch. This is the big show that really is going to show everybody how much talent is in the state of Kansas."
Theater director Greg Shaw was also grateful that "Urinetown" was one of the three mainstage shows to be selected.
"Obviously [I was] very pleased that we were selected," Shaw said. "We have qualified for each of the last ten years, but this is only the third time out of those ten years that we have been selected."
Senior Matt Buck is looking forward to performing in front of an audience of thespians.
"I got to go and be backstage during Band Geeks when they performed, and it was a great experience to feel the excitement from everyone and from the audience," Buck said. "It is a great audience full of people who know the experience of being on stage and know what we're going through. It's just the best audience."
In the commotion of his first musical being performed at state, junior Aidan Harries plans to focus on handling his emotions.
"[It will be hard] having all that energy and making sure it is controlled and not getting too overwhelmed with the excitement of being in front of so many people," Harries said.
The cast will be performing "Urinetown" again Jan. 2 at Memorial Auditorium at 7 p.m. Tickets are not required, but donations are appreciated.
Shaw is grateful for the support shown by the community.
"Thankfully we have a school district and an administration that supports success," Shaw said. "We are appreciative of all the people that help us put a program together like this. Lots of people give their time, resources and money. This is the payoff, and hopefully it is a payoff for all those people as well to see our kids succeed at this kind of level. This is truly a state championship in theater and that is how we're trying to approach it."