Recap: Robotics team reflects on season, sets goals for next year
Hang on for a minute...we're trying to find some more stories you might like.
Effort, time and concentration are the three things members of the robotics team would say are required to build a robot.
Recently, the team has spent time working together as a team so they could get ready for the Greater Kansas City Regional FIRST Robotics Competition.
"Once [the team] got working together as a group, [building the robot] went pretty smoothly," senior and co-captain of the team Sam Kirby said. "Then, it was just making sure everyone knew what they were supposed to be doing and how they should go about it but I think they've learned a lot this last year."
The club started up a few months after the start of school, but building the robot didn't start until January. Before the team started to build the robot, they had to organize the team and start raising money for their supplies and competition fees.
"We did an e-race drive earlier this year [and sold] laptops," Kirby said. "We have a few more planned coming up. We also go around to local businesses and say, 'Hey, if you want your logo on our t-shirt, banner, or robot please donate to the team and you will get put wherever."'
After their fundraising was done, they began working on the robot for the Greater Kansas City Regional FIRST Robotics Competition.
"Three robotics teams are put into one alliance and there's another alliance of three teams, and then each [compete against each other]. Those alliances change around until you get [into] the semifinals where the best robotics teams have surfaced," co-captain and senior Andrew Riachi said. "They line you up like [in] dodgeball and you pick your alliance and you get to stick with that alliance for the final matches."
With the new members that had joined this year and how much they had to learn to work together as a group, Kirby said they had made a promising start at the beginning of the season.
"We got off to a really great start this year," said Kirby. "It was amazing the amount of progress we made [on the robot] the first week and a half."
Despite the progress the team made this year, they experienced some bumps in the road further into the season.
"
It was amazing the amount of progress we made [on the robot] the first week and a half."
— Sam Kirby
"We were relying on some parts to come in and they did not [arrive] until several weeks after we ordered them," Riachi said. "And when you're talking about six weeks [to build] a robot, that is a huge setback."
The robotics team competed in their third year at the Greater Kansas City Regional Competition and they placed 28th out of 36 teams, with a record of 4-7-1. While still in the earlier stages of team development, Kirby said there is a reason for optimism with their future progress.
"What I am really looking forward to at [this] competition is the new members of robotics to see what they've been working towards all year and for it to finally click," Kirby said. "I really want them to leave there with a positive mindset and a positive view of the club."
About the Contributors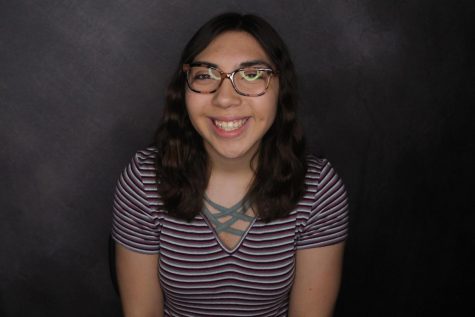 Sarah Alcantar, Assistant online co-editor
Sarah is a sophomore and this is her second year on staff. Outside of newspaper she is involved in debate, volleyball, Spanish club, book club, and HOSA.