#LincolnOrBust
Theater raises funds for international performance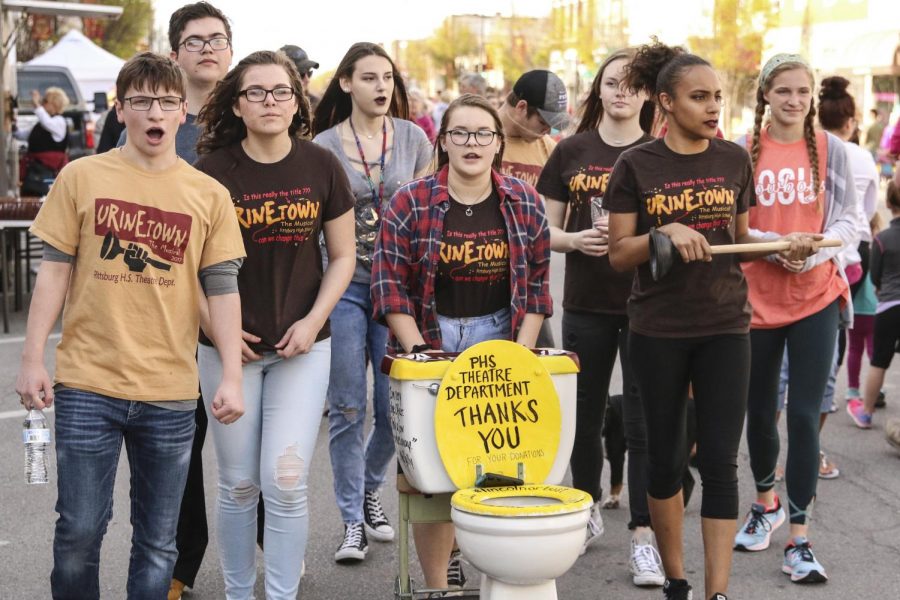 Story by Gina Mathew, Editor in Chief
May 5, 2018
While the citizens of "Urinetown" must pay for the privilege to pee, the cast, crew and pit band are hoping not to give a penny toward their trip to the International Thespian Festival (ITF) as a result of a major fundraising campaign.
Approximately 7,000 theater students, teachers and professionals from the U.S. and Canada will attend ITF, a week-long theater conference in Lincoln, Neb. on June 25-30.
The PHS theater troupe made school history when their show, "Urinetown," earned a bid as one of 11 shows in the nation to perform at the convention. But along with the honor came a hefty price tag.
The group, comprised of 47 students and three teachers, aims to raise an estimated $45,000 to cover the expenses for food, lodging, registration and travel as well as on-site workshops, shows and competitions.
"The registration for the event is approximately $800 per student and it's all-inclusive. Unless the [students] want to purchase extra vending stuff or souvenirs, there shouldn't be any other cost," theater director Greg Shaw said. "We've got to rent a truck to take the set, band instruments and costumes. We've got to pay for the hotel rooms of people that are just coming up for the show. We estimated that to be between four and five thousand dollars, so our target was $45,000 for the entire event."
Andra Stefanoni, mother of junior Dominic Stefanoni, was responsible for promoting various fundraisers through press releases and social media. Stefanoni updated the fundraising progress on the "Friends of Pittsburg High School Performing Arts" Facebook page.
"I helped organize a core team of parents to spearhead several fundraising efforts since we learned of our selection in January," Stefanoni said. "My role was to facilitate brainstorming on how we would raise $45,000, then to develop an action plan and marketing strategies for that."
Some of those strategies included partnering with local businesses, such as Chatter's, Neptune Auto Repair, Piece of Cake Nutrition, Root Coffeehouse and Sweet Designs Cakery, who donated a portion of their sales on a designated day.
At the Pittsburg Art Walk on April 20, students and parents set up a popcorn and cotton candy station, along with a custom toilet for donations, collecting $585.
The troupe also started a GoFundMe campaign. At the time of submission, 29 donors managed to raise $2,376 for the trip.
"We have planned several local fundraisers such as silent auctions, ice cream socials and so on," the page said. "For the rest, we're turning to the public here on GoFundMe in hopes people give what they can, whether it's $20 or $2,000."
In that spirit, the campaign adopted the slogan "Give What You Can" to encourage donations big and small.
"We truly mean it," Stefanoni said. "We tried to structure our campaign so that everyone who would like to give could do so in a way that was accessible."
On March 23, the troupe hosted "An Evening with the Stars," a cabaret-style event at the Circle B Ranch featuring alumni and current students as performers and wait staff.
"The cabaret was really successful and we got a lot of feedback from community members saying, 'We should do this all the time,'" Shaw said. "The kids loved it because they got to do something they don't normally get to perform."
"
We tried to structure our campaign so that everyone who would like to give could do so in a way that was accessible."
— Andra Stefanoni
Due to the positive response, the troupe will host "An Evening with the Stars: Take Two" at Circle B on May 25. Tickets are $25 each.
Shaw envisions the cabaret as an ongoing fundraiser for the future.
"I want to do a couple cabarets every year, maybe one each semester, and allow the kids to showcase their talents. Then, any proceeds that come from that will just go toward future [events] and we won't start at zero. We'll start at whatever that fund is and raise the difference."
Senior Fayne Speer believes the outpour of community support is a testament to the success of the program.
"I'm really grateful for all of the donations people have given," Speer said. "I think it says we're dedicated to what we do and the community sees that."
Senior Kaity Rhea realized the fundraising would be a massive undertaking, but she is proud of the outcome.
"Raising $45,000 is not an easy task," Rhea said. "But we're just about there, so it's really amazing. We worked very hard."
In the future, Shaw plans to raise money in advance.
"I'm hoping to start a fund so that, when kids qualify for state or internationals, we can help where we can to either defer or pay in full those fees that go along with representing our school at an extraordinarily high level," Shaw said. "That's my goal."
The troupe will offer one final performance of "Urinetown" on June 3 at 7 p.m. at Memorial Auditorium. Admission will be free and open to the public.
"[It is] a final dress [rehearsal] of 'Urinetown' to get ready," Shaw said. "I'm hoping we do it free of charge and invite the community to grab a seat and come enjoy this show that's gotten quite a bit of recognition."