"Yeezy" money
Student buys shoes at retail price, sells them at higher rate
Hang on for a minute...we're trying to find some more stories you might like.
Isaac Leverenz gathered his equipment and headed to his friend, Ely Parks's house with the intention of making hundreds of dollars.
Over the course of two years Leverenz has made between $1500 and $2000 by "flipping" shoes. Flipping a shoe is when a company such as Adidas creates a low supply and a high demand for a certain shoe and consumers are able to get the shoes for a retail price and then resell them later for a profit due to people who are willing to pay more for the shoe.
Yeezys are one pair of shoes Leverenz flips.
"Sometimes [I flip] types of Adidas shoes that are limited and that I can make a profit off of."
Due to Yeezys being extremely limited in quantity, they can be resold for over twice the original price.
"I normally buy Yeezys to flip and I pay retail, which is $220 or $240 with tax and the most expensive pair I've flipped was for $800."
While Yeezys and similar shoes can earn a 200 percent profit, there are thousands of people trying to buy the shoes at the same time. Some websites have ways of making buying the shoes more fair than other sites, such as having the customer wait on a splash page and selecting random people to go in and buy the shoe.
Before Leverenz can buy the shoes, he has to know when they are coming out and what they are.
"I follow Yeezy Mafia on Twitter," Leverenz said. "They have all the inside info and everything and like stock numbers, release dates, colors that haven't even been announced by Adidas. Somehow, they put out the information before Adidas even announces it."
Buying these shoes can be an intricate process that requires a lot of set up.
"On release day, I usually go to my friend Ely Parks' house," Leverenz said. "I bring two laptops, an iPad and my phone and he uses his laptop and computer and phone."
Every time Yeezys come out and [Isaac and I] are both in town," Parks said. "We go to my house and try to get them."
Once Leverenz and Parks get together, they still have to set up in order to increase their chances of actually being able to get a pair of Yeezys.
"We usually set up a bunch of different windows on our computers on the queue for Adidas," Leverenz said. "And we just sit there and we wait till one gets through."
Then they monitor prices and figure out when the best time to sell is to optimize profits.
"Sometimes, I sell them like the day after I get them in the mail and sometimes I hold onto them a little bit and see what the price of them does because sometimes the prices rise and drop," Leverenz said. "I normally use Stockx to check prices and stuff and I even sell on Stockx too."
Apps such as Stockx and GOAT compile information on the prices of shoes over time and show you how much they are selling for at the time.
Recently Leverenz and Parks have not flipped many shoes.
"I've kind of slowed down recently because there hasn't been any many shoes coming out that I like or any shoes that will resell for a lot," Leverenz said. "It's been a long time since Yeezys have released, but [they]are going to start releasing again here in a couple months."
However with releases coming soon Leverenz plans to start trying to get shoes again. "Coming up this month there's a lot of shoes… [that] I'm going to try to get," Leverenz said.
Parks also has his sights set on trying to get some shoes over the summer.
"There's several Yeezy releases coming out over the summer," Parks said. "I plan on trying to get them all."

About the Photographer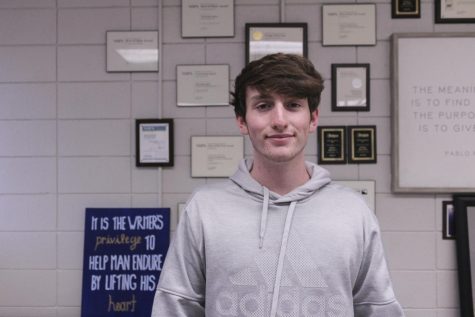 Matthew Moore, Managing Editor
Matthew is a sophomore at PHS and he is managing editor for the Booster Redux. He is also involved in yearbook, student council, and football. He is patriotic...