Designing a hobby
Bishop builds costume skateparks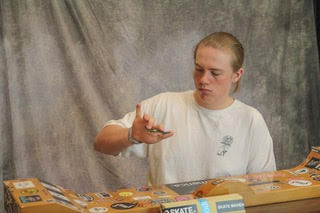 Turning a pastime into a craft, junior Keenan Bishop started building his own skateparks for fingerboarding. According to Bishop, fingerboarding is miniature skateboarding and its appeal comes from the ability to skate almost anywhere at almost any time.
Bishop started fingerboarding in seventh grade and decided to make his own ramps two years ago due to the steep prices online.
"I got into fingerboarding because one of my friends in Arkansas started doing it at the skatepark and I thought it looked pretty fun." Bishop said. "Ramps were too expensive to buy off the internet so I decided to do it myself because I have the resources."
Bishop's father has a workshop that gives him the ability to draft and produce his projects.
"I design the ramp on my computer, send it to my dad's machines at his shop, cut it out of trupan wood, sand it down and put a nice clear coat on it," Bishop said. "I repeat that process until it looks good."
Having built multiple parks over the last few years, Bishop decided to sell a few for a profit.
"I've mostly made individual ramps. I've made about 30 ramps and have made around eight parks. I've sold four or five and kept two so far," Bishop said.
Bishop continues to design and build skateparks today and is currently working on a new park which integrates a mixture of transition and street styles.