Urinternationals
Urinetown selected to perform at internationals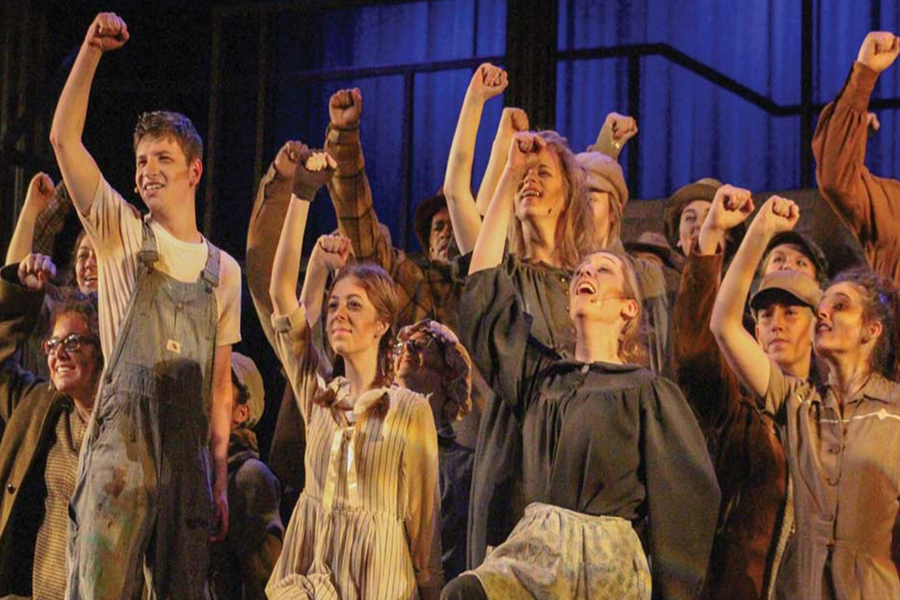 As tears welled up in his eyes, senior P.J. Monsour took what he thought would be his last bow for performing "Urinetown" at the State Thespian Festival on Jan. 2. But what he did not know was it would not be his final curtain call.
The next morning, theatre director Greg Shaw announced the cast and crew had been selected to perform at the International Thespian Festival (ITF), a first for the drama department in school history.
"I was very excited when I found out," Monsour said. "It was life-changing. [PHS] has never made it before, so it was insane."
The ITF is a week-long theatre conference from June 25-30 in Lincoln, Neb. at the University of Nebraska. Approximately 7,000 theatre students, teachers and professionals will be in attendance from all across the nation and Canada.
"It is a check mark [for me]," Shaw said. "Sometime in my career I wanted to take a show to Internationals. So personally, it is cool that I will get to experience that."
Participants will spend a week attending workshops and watching student productions, which have also been selected like "Urinetown". "Urinetown" is one of 11 main stage shows to be performing.
"To be selected, they judge all aspects of a show. It is really nice to get feedback," Shaw said. "They felt one through 31 performers were completely invested. They had their own characters and were living in the moment on stage. That is a huge compliment and it is certainly what we strive for as a program."
The drama department will have 40 students attending the full conference, as well as 12 band members traveling for the performance. Making the 300-mile trip to Lincoln with all of the components of the production adds up financially. According to Shaw, the total net of the trip will be around $45,000.
"We are going to have to do some fundraising. I have no doubt that we will be able to raise the money. It is just a matter of getting everything organized and being able to do it," Shaw said. "I would love for those 40 students and band members who have invested in this production be able to attend this without having to pay for it, that is our goal. With the school's help and the community's help, I am hoping we can satisfy that."
"Urinetown" will be performing in the Kimball Theatre, which seats between 800-900. They will perform a minimum of two shows at the Festival. Junior Hannah Casper is ecstatic to have an audience who all appreciate theatre.
"I cannot even imagine what Internationals is going to be like since State was such an amazing experience," Casper said. "Just the feeling of so many amazing people who really appreciate theatre clapping for us is just awesome."
Before "Urinetown" leaves for Internationals, there will be an encore performance in June to raise funds for the trip and practice piecing the set together quickly.
"I think by achieving [Internationals] we are doing the right things. We are creating art at a pretty high level. Professionals in our industry are telling us we are doing top-notch work," Shaw said. "By going to Internationals, I think we can consider ourselves one of the top programs in the country."