Hammering out stereotypes
Female students participate in CTEC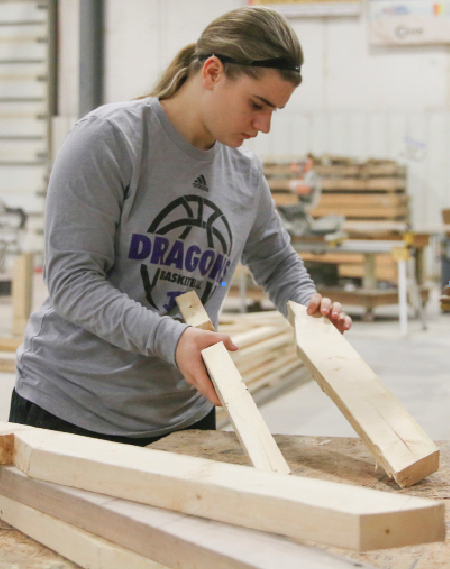 Putting on her tool belt and picking up a hammer, sophomore Kassidy O'Dell prepares for her first hour. Swapping pencils for eye protection is a requirement for students at the Career and Technical Education Center (CTEC).
O'Dell is one of 20 students who travel to the CTEC building, and only one of two high school females.
"We have welding, masonry and carpentry," executive director Kris Mengarelli said. "Our goal here is to have students get dual credit and technical education at no cost."
O'Dell and senior Kiera Miller are enrolled in the carpentry class and are learning life skills not taught in a traditional classroom.
"We're learning how to better ourselves in the carpentry field," O'Dell said."I can be more independent when I get older, like if something small happens at my house, I'll be able to fix it."
Miller notices the gender barrier, but doesn't think it should push females away from the program.
"This is a more male-dominant profession which might make girls shy away from it," Miller said. "But girls are capable of doing these jobs and being good at them and having fun while doing them."
Mengarelli encourages students to not follow stereotypes and pursue their passions.
"I think our society has shifted from the mid-1900's stereotypes. It's no different than if a guy wanted to go into a female-predominant field," Mengarelli said. "Don't let preconceived notions get in the way of what you want to accomplish. Anyone should pursue what they want to do. If a female wants to go into carpentry, I say go for it."