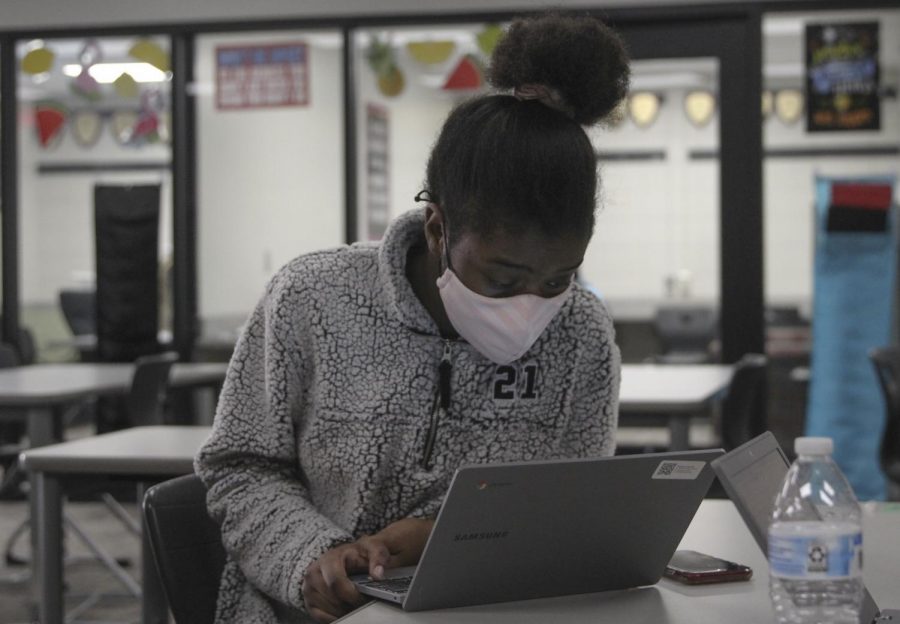 Sydney Roberts
Balancing work and school isn't always the easiest task. Senior Emily Wachter utilizes a reduced schedule to work at the Family Resource Center as a child caregiver.
"I go to work in the mornings from 7 to 8 and then I go to school immediately after work. After school I go back to work at 12:15 as like a sub and then at 3:30 I am in a classroom till 5:30 when we close," Wachter said.
Work experience prepares her by helping save money and having experience of working and going to school.
Senior Jasmine Carter only takes four classes for school. She starts her school day in the 3rd hour creative studio. Carter receives a work experience class at the end of the day.
"I only needed two more credits to graduate so they shortened my schedule," Carter said.
Work experience allows kids more time to be ready for work or even take on more hours. Jasmine works 32 hours a week at New Hope in home assistant care.
"I like that when I graduate I'll always have a job or always know what to do, and how to manage money in the future. So I don't spend all my money and not have a job or anything," Carter said.
Counselor Gina Ulbrich supervises students for work study. 
"I've been there. I know the time management necessary to simultaneously go to school, hold down a job, and participate in school activities. This rewards them for working hard."

Not only does it count for school, but at the same time it teaches students real world solutions to problems like having a schedule and saving money. According to Wachter, it also benefits in helping save up and prepare for college or after high school as well as creating work stability.
"I think that working while I'm in high school is really important for me to grow now just because I'm learning how to budget as a high schooler. So when I go to college I will be able to budget when I have a dorm room and when I have all of those things. I already am saving money so that I won't have to be tight with dorm rooms and things like that. I also feel like I definitely have a job to go to throughout college, so that's really awesome," Wachter said.
Work Experience also counts as credits.
"Work experience credit is beneficial because it helps a student get to the required 26 credits. If a student has failed classes in the past, it's a good way to make up those credits, or if a student wants a reduced schedule their senior year, it's a great way to make that happen," Ulbrich said.
Making money can actually be used to earn elective credits for school. Students submit pay stubs as evidence.
"For every 120 hours of work pay stubs a student turns in, they earn ½ elective credit, up to a total of 2 elective credits for their high school career," Ulbrich said. "Students simply need to visit with their high school counselor for details."