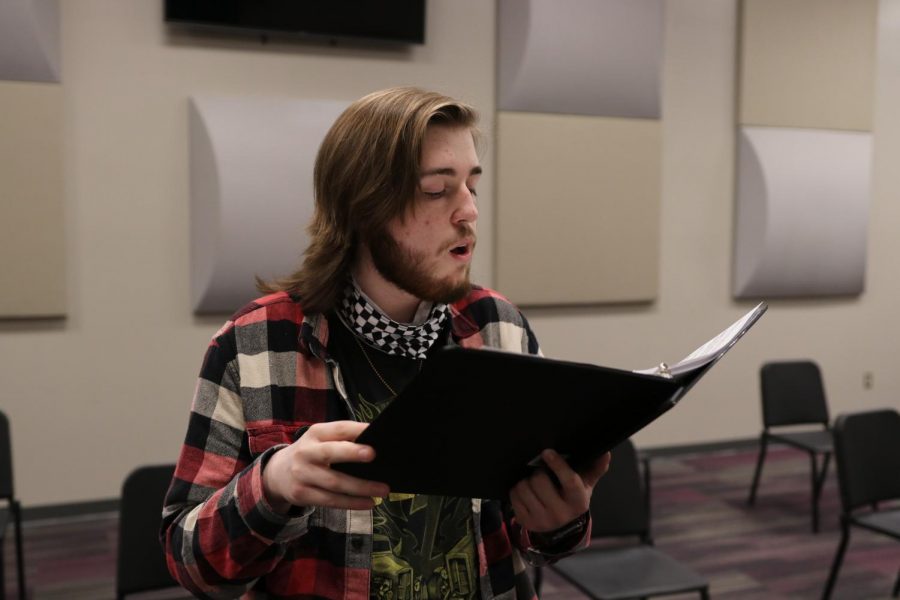 Hannah Abarca
This semester, Pittsburg students will compete in the annual vocal music competition in two musical events. Solos, small ensembles and a large group will be preparing pieces to send in virtually to KSHAA adjudicators.
Senior Dallas Cox selected Moscow Nights by V. Solovyev-Sedox, a Russian folk love song and Rovin' Gambler by John Jacob Niles, a bluegrass folk piece.
"Moscow Nights is going to be a good one for me because it's not too hard but it's a challenge being in a different language," Cox said. "It's Russian, the judges won't expect it. I know how to read it and sound it out, and speak it. They will be very different pieces which is good because you don't want your two pieces to sound too similar, and they are definitely not. I like the western sound and I also like the far eastern sound of Russia."
Solos are offered only to seniors, unless a student is taking private voice lessons. Two songs with contrasting tempos and styles are prepared throughout the festival season. Repertoires must be either classical or art pieces and recordings of video and audio will be submitted before spring break.
"Years ago I realized I was just one person doing all of this prep," vocal music director Susan Laushman said. "That's when I determined that we would make it special when you are a senior, if you want to prepare to have your voice evaluated, then you can do a senior solo."
Students will not be competing against others, but receiving an evaluation and rating of their singing voice, 1 being superior, 2 is outstanding and 3 is good. Judges will use a rubric identifying a mature tone, forbito in the voice, diverse dynamics, if the singer can convey the text and articulate throughout the song.
Cox was not the only one to choose a repertoire of a different language. Fellow senior Kassi Burns selected two art songs, Dance Song by Frank LaForge and Come raggio disol, an Italian piece by Antonio Caldara. While selecting her music, Burns looked for meaning in the lyrics. As a dancer, Burns was inspired to select a song by the name of Dance Song and the Italian art piece is about the ocean, indicating her love for the ocean.
"I've always looked up to the upperclassmen and I've seen year after year people do senior solos and I've always said that it was something that I wanted to do when I was a senior," Burns said. "The experience of these being my special songs that I'm preparing and getting to learn and focus on and have it be mine and not have to sing in a choir setting that I'm used to, I think it will be a neat experience."
Laushman provided the students with solo books covering all dynamics of voices including alto, soprano, tenor and bass. Given a wide selection, students select their own solo piece, giving them the chance to branch out to something unique. Senior solos create a different environment compared to singing in a choir or ensemble, allowing the students room to grow in confidence and skill.
"You do use some different techniques with solo singing because you are on your own," Laushman said. "I've seen some senior voices really develop and mature in this small amount of time just working on a solo."