Furious 8 Review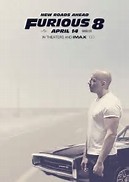 Story by: Julie Wilson, Reporter
June 14, 2017
Hang on for a minute...we're trying to find some more stories you might like.
The eighth movie in the Fast & Furious series, "The Fate of the Furious," predictably amps up the action and the cast because Hollywood law demands that sequels must be bigger and louder.
The old cast returns, minus Bryan O'Connor (played by Paul Walker) of course, and his movie wife and sister-of-main-character Mia (Jordana Brewster). Old villains return too, namely Deckard and Owen Shaw (Jason Statham and Luke Evans). There are also new characters, with actresses Charlize Theron and Helen Mirren, and actor Scott Eastwood joining the cast.
The Fast and Furious series was originally about the world of underground street racing, but starting in Fast 5 it added Luke Hobbs (Dwayne "The Rock" Johnson) and became focused on espionage and crime capers. To make this easier, Mr. Nobody (Kurt Russell) has returned from Fast 7 to focus the team on this movie's villain, Cypher (Theron). Cypher has made things harder by convincing Dominic Torretto (Vin Diesel) to betray his family/team and join her cause.
There is a lot of car action, guns are fired, butt-kicking occurs and a lot of things blow up. Let's be honest here: when you go to a Fast & Furious movie, you know what is going to happen. You also know that the action is going to be very well done. So, props to the series for keeping that part awesome.
You also know a Fast & Furious movie is going to play up the concept of family and what it means. If you wondered how they would continue the series without Paul Walker, the movie touches on that point, explaining it away pretty easily by saying that he had given up the action to settle down quietly with family. It also seems each of these movies ends with them saying grace as they gather as a family and eat.
Some final thoughts: The day before I saw this movie, I failed my driving test. For inspiration, I decided to see the Fate of the Furious. I have to wonder though, how did these guys pass their driving test and not me?
Some of these action sequences involve so many cars I kind of got the feeling they hired my 3 year old cousin to plan them out with his Hot Wheels.
The best line of the movie was by the Rock, "I'm gonna beat you like a Cherokee drum!"
Overall, this was not a bad movie. It takes the usual bigger Hollywood sequel idea and actually pulls it off. Definitely worth the price of admission.